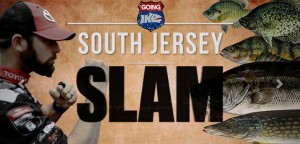 The South Jersey Slam was the one film that I would call a true winter fishing trip. We wanted to catch several species. That turned out to be an educational experience.
We caught crappie, yellow perch, bluegill, pickerel and perch on small jerkbaits and grubs. There's really nothing special about that. They bite pretty good even in cold water — we had temperatures all day in the low 40 degree range — on most conventional lures.
What I really want to talk about are the bass. They're hard to catch when the water gets that cold in my neighborhood. Fortunately, however, I knew about a trick I learned back in the 1990s during a local tournament to deal with lethargic fish. The ones we caught actually had mud on their bellies from lying on the bottom.
We won that event with a limit of ordinary size bass by fishing small, black jigs. What we learned that tournament day was even more valuable than the win, however. As we were cleaning out the livewell we noticed that the bass were spitting up small, black larva. We had unwittingly matched the hatch perfectly.
We followed the same game plan for the film, and we caught several bass in the 4 to 5 pound class.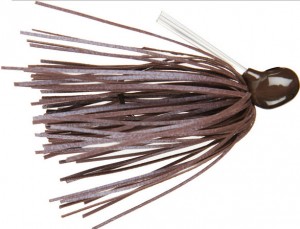 Keep something in mind, however. When I'm talking about small jigs I'm referring to micro sized lures. A 1/8 ounce model is absolutely as big as I go. Smaller than that is usually better. My choice is the Molix Nano Jig. They're well-made, have a nice skirt on them and employ a fiber weedguard. (Yes, they're real jigs in all respects.)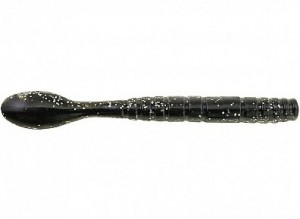 I use a trailer but I customize it. I start with a Berkley Powerbait Pro Jig Worm. Then I cut it down to about an inch or so in length. After I thread it on the hook I use a pair of scissors to cut a small V in the end of the tail.
Proper tackle and proper technique are critical.
You need to start fishing by making long casts. For that you need a long rod. I designed a 7 foot, 4 inch spinning rod just for this purpose. It's manufactured by Abu Garcia. I mount a 40 Series Revo spinning reel to it.
If the water's stained to muddy, I use a light braid with a fluorocarbon leader. If the water's clear, like it was when we filmed the South Jersey Slam, I go with all fluorocarbon line. I think the fish can sense the presence of braid when the water's clear. Naturally, I use Trilene braid and Trilene 100% Fluorocarbon.
I fish micro jigs deadstick style. It's a great way to fish a lot of lures but I think there's a lot of misunderstanding about it. Deadsticking does not mean no movement. It means natural movement. The way I do it is to hold my rod tip up at a fairly sharp angle and then just hold it there. I let the natural movement of my body, the boat, the wind and the water to create the action.
Dead stick a micro jig the next time you're faced with tough conditions. It'll work all over the country. I can say that because I've fished it all over the country.