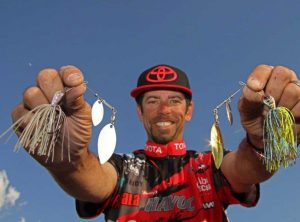 Finally! Someone has made a high-quality titanium spinnerbait, and we all know what that means — lots of vicious strikes and a bait that'll last forever.
Here's the thing: Titanium is a super non-corrosive metal with a natural silver finish, a low density and incredible strength. Basically this means that the wire on our new spinnerbait is thinner and stronger than other metal wires. That gives it increased vibration and makes it darn near indestructible.
The vibration thing is really important because it's not just the flash of the blades that attract bass to a spinnerbait. It's the flash coupled with a strong vibration that bass feel through their lateral lines. That excites them and makes it easier for them to home in on the bait. And that vibration comes from the wire as the blades turn.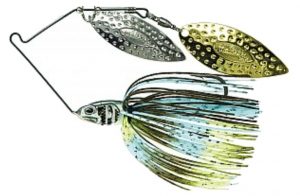 And speaking of blades…
The ones on this baby are a little different. Instead of being smooth or hammered they're dimpled. That's the word the advertisers use to describe them but I think just as good a description is that they're covered with little hole-like indentations. They kind of look like they were made with a nail point.
Anyway, whatever you call them, they work. I've tested them all over the country and they catch bass anywhere and under any conditions that'll get you a spinnerbait bite.
We've started with eight basic skirt colors — each one approved by me — and a bunch of different colored blades. Some are silver, some gold, some red, some yellow, some blackish-blue and some white.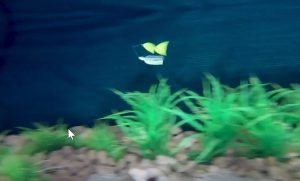 I've put them together in the combinations I like but you might think differently. If so, just swap them around until you get what you want. The high-quality components we build them with make that easy to do even while you're in between casts.
These are all double willow blade combinations. But, because of the increased vibration you get from the titanium wire you get about the same vibration out of them as you would from a Colorado or an Indiana blade. This is a super versatile spinnerbait.
Now, here's the extra good part: They cost a little extra when you first buy them but they last forever so you actually save money over time because big, heavyweight bass won't destroy them like they will conventional wire models.
Pick up a couple of Molix Lover Double Willow Spinnerbaits this summer and give them a try. I guarantee you won't be disappointed.
____________________________________
Like Ike on Facebook,  and follow him on Instagram and Twitter to see weekly Vlog for Going Ike episode, along with fishing and fun content.
Subscribe to Mike's YouTube channel, Going Ike,  to ensure you see every adventure video.
Return to Mike Iaconelli's website