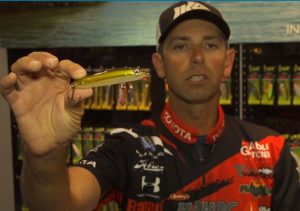 Many anglers think of topwater presentations as something of a fun deal. They really don't think of them as a primary pattern or something that can be used on a regular basis. That thinking limits their ability to put bass in the boat because a skillful topwater angler can often out fish other anglers two-to-one. That's especially true if he or she chooses the right lure and presents it properly.
The best lure and the best presentation — at least for covering water and catching bigger fish — is a hard stickbait gliding back and forth across the water. We all know that presentation as walking-the-dog.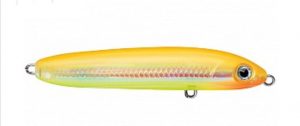 There are plenty of hard stickbaits around. Probably the best known is a Zara Spook. They'll catch fish, of that there is no doubt. But for my money the all-time best is a Rapala Skitter V. It's 4 inches long and weighs 1/2 ounce. That's just what you need for most bass fishing.  Just as important, though, is that it has a kind of keel on the bottom that helps it glide from right to left and from left to right.
If you want to make that glide happen, you need to work your rod correctly. Start with the rod at the two position and bring it down to the four or five position. Do this with a sharp, quick snap on a reasonably tight line. As soon as your rod tip is down you should bring it back up on a semi-slack line. Then, before you snap it down again; take up all the slack. Develop a cadence. That'll make all the difference in the world.The process is a little hard to describe in writing. I'd suggest you go to YouTube and watch some videos before you start your on-the-water practice.

Walking-the-dog correctly requires the right equipment. Start with a fairly soft rod that has a parabolic bend, and make sure it's no longer than 7 feet and has a short butt for a handle. I have one that's designed just for this technique. It's the Abu Garcia 6 foot, 4 inch short butt Delay Series rod.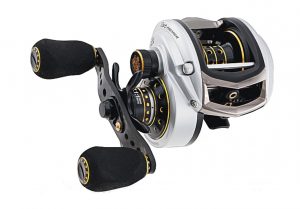 I use an Abu Garcia 7:1 reel. That's fast enough to keep my line coming in and plenty strong enough to handle big bass. Most of the time I spool it with 40-pound-test Berkley Trilene Professional Grade Braid and I usually tie a short monofilament leader on to give me a little more shock protection.
Learn to walk-the-dog this year if you don't already know how. It'll make a big difference in your catch.