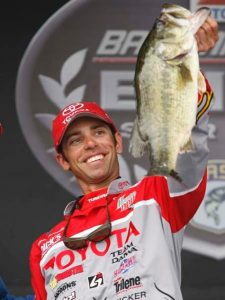 Every so often something comes along that I would use even if it wasn't made by a sponsor. That's the way I feel about the new Berkley Powerbait Bearded Grass Pig Swimbait. It's a true upgrade to the swimbait class of plastics.
The best way to describe it is to say it's a new design based on the original Grass Pig — a more traditional-type plastic swimbait — that adds a skirt at the front along with a collar that'll secure everything. The skirt and collar give this design a fuller body and helps create a bigger, more robust profile as it comes through the water. They also disburse its fish catching scent more effectively.

Berkley estimates it'll be commercially available by this fall, just in time for the fall feeding binge. At 5 inches long and with 10 of our best colors available there'll be one that's perfectly suited for almost any lake or river.
The Bearded Grass Pig is designed for anywhere you'd normally throw a soft-plastic swimbait. It comes through grass really well and is reasonably weedless in heavy cover. Given its size I'd recommend casting tackle. You can expect a bigger bite with this lure than with most 5-inch baits.
I rig the Bearded Grass Pig three ways: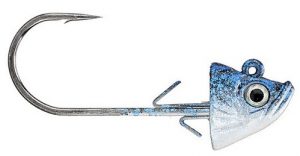 The first is like an ordinary swimbait. I use a VMC Ike Approved Swimbait Hook in the 4/0 or 5/0 size. This is a bigger bait so I like a bigger hook to make sure I get a reliable hookset.
This is a shallow water setup. There's nothing special about fishing it — just toss it out and wind it back towards the boat. The skirt and collar will do the rest.
If the water's a little deeper I'll arm it with a regular swimbait or jig head. Most of the time this will get it down without a lot of waiting and wasted time. Another thing is that a weighted head will add a little more overall action to the bait, but not so much that it'll act unnatural.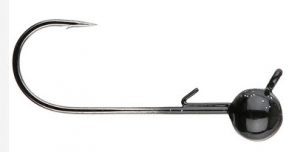 If I want a lot of action along with a little more depth I'll go with a VMC Ike Approved Rugby Jig. The design of that head will cause the bait to wobble and shimmy more but it'll still stay down where it needs to be to catch the big ones. This head is available in eight weights and two colors. Weight is more important than color. Black is my first choice most days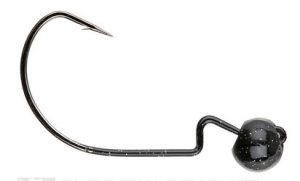 You should also know that there's a finesse version of the Ike Approved Rugby Jig that'll get you through tougher situations like when the bite is tough, there's a lot of pressure or when the fish are skittish. It's available in four weights and three colors. Again, weight is more important than color. When in doubt, go with black.
___________________________________
Like Ike on Facebook,  and follow him on Instagram and Twitter to see weekly Vlog for Going Ike episode, along with fishing and fun content.
Subscribe to Mike's YouTube channel, Going Ike,  to ensure you see every video.
Return to Mike Iaconelli's website videos.