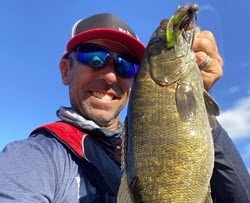 Fall is a great time to go bass fishing. The weather is cool but it's still comfortable, there are fewer recreational boats around and the bass are feeding like crazy. It's also a great time to catch a giant, maybe the biggest one of your life.
If you want to catch one like that, though, you have to use the right lure. Here are my three very best fall baits for giant bass. But here's the thing — one of them isn't necessarily any better than the other. It's about which one will best match the hatch.

The first one I want to mention is a topwater plug. Almost any of them will work. But, more likely than not, my choice will be a hard walking stick, something that'll walk the dog. My preference is a Rapala Skitter V. It comes in a size 10 which is 4 inches long and in a size 13 which is 5 1/4 inches long. I usually go with the bigger size when I want a giant.
The thing I really like about this bait over some of the other is that its bottom is keel shaped. That helps it walk but at the same time holds it stable.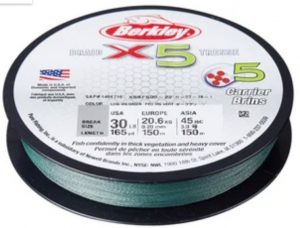 Right now is a good time to talk about size. You hear a lot of things about fishing for bass but the one thing that's true for sure is that when you want a big bass you should increase the size of your lure. Big baits catch big bass. There's no doubt about that, especially in the fall.
The big bait thing is especially important with a walking stick like the Rapala Skitter V. It'll help you weed out the smaller fish, and draw the big ones to your lure.

One other tip I want to mention is that I throw my big walking sticks on 30 or 40-pound-test braid with a 6 to 10 inch monofilament leader, 15 or 20-pound-test. I use Berkley 5X or 9X braid and Berkley monofilament. The mono leader will stop the braid from tangling in the lure's hooks.
The next lure I'm going to mention is a swimbait. There's nothing better to use that'll look like the real thing. When I'm serious about catching a giant I go with a Berkley Powerbait Hollow Belly Swimbait. It comes in three sizes but I always go with the 6 inch model.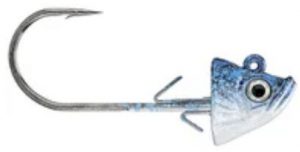 One of the nice things about this bait is that it can be rigged several different ways. But, having said that, my number one way to rig it is with a heavy jig head. The best I've found for this is a VMC Ike Approved Swimbait Jig Head.
I use it because it has two very important features. The first is a 90 degree line tie. The second is a flat bottom. Both of these features help the swimbait track true in the water and they give the bait a two dimensional movement. The body moves side-to-side and the boot-tail does its thing at the same time. Not a lot of swimbaits can do that — two subtle actions in one lure.
Last, but by no means least, is a spinnerbait, a big profile model. Big in this context means 1/2 to a full ounce. A 3/4 ounce, or a 5/8 ounce, is perfect.
My choice is a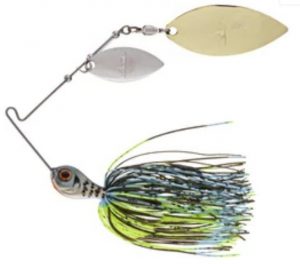 . They're big, built heavy and do exactly what a quality spinnerbait should do when you fish with it. Their big head, big eyes and more skirt material are just what the doctor ordered. The ones I fish with have a No. 5 willow leaf in front, a No. 4 1/2 in the back.
One other thing about this spinnerbait is that you should always — 100 percent of the time with no exceptions — put a trailer hook on it. I only use VMC Ike Approved Trailer Hooks. When I put them on I take the plastic keeper off and then put the hook on with the point up, just like the hook on the bait itself. Then I put the plastic keeper back on over the bait's hook eye.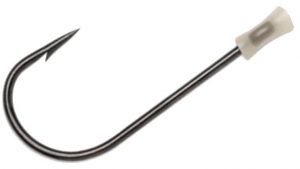 This keeps the trailer hook from coming off but still lets it swing free. It'll move 360 degrees to catch them no matter what direction they come from or how they grab it. That's important because fall giants can be funky when they bite a spinnerbait. You want to keep things in your favor.
One last thing: You'll notice I haven't said anything about color. That's because I don't know what the forage looks like in your lake or river. MATCH THE HATCH
Go get 'em, right now!
---
Like Ike on Facebook, and follow him on Instagram for fishing and fun content.
Subscribe to Mike's YouTube channel, Going Ike, to ensure you see every adventure video.
Return to Mike Iaconelli's website