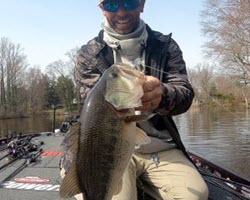 Starting out as an angler can often seem intimidating, but it doesn't have to be that way. Part of my goal in creating this series is to make the learning process easier for beginners. In order to be efficient on the water, you have to learn to pack a tackle bag. It doesn't matter if you'll be fishing off the bank, from a kayak, in a jon boat or in a bigger boat – that bag is your tool box for a day on the water.
Keep it simple by remembering that there are three main categories of gear: Terminal tackle, artificial lures, and accessories.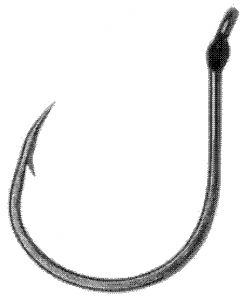 Start off with your terminal tackle. That means things like hooks and weights and jig heads.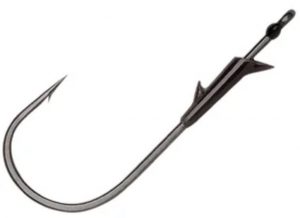 It's important to carry a selection, but that doesn't mean you should get crazy. Pick out two or three different sizes and styles of the most important ones and you should be set for most situations. For example, with hooks I carry three main types. The first is little dropshot or wacky hooks in sizes #1 and #2 for my finesse presentations. The second is a straight shank flipping style hook in 3/0 or 4/0 for flipping and pitching heavy cover. Last but not least, I like some extra wide gap (EWG) hooks, usually in 2/0, 3/0 or 4/0.
Next, make sure you have jig heads. They are an extremely versatile way to present different soft plastics. Get sizes from 1/8 to ¼ ounce, that's all you typically need. Finally, you'll need three different kinds of weights. Again, there's no reason to go overboard. I start with some bullet-shaped worm weights, usually from 1/8 to 3/8 ounce. I add some dropshot weights from 1/8 to ¼ ounce. Finally, throw in some nail or insert weights, from 1/16 to 1/8 ounce. That's all you really need to get started.
Now let's talk about lures. I know that most pros carry more than we can ever use, but you really don't need a lot to cover all of your bases. In fact, I can get quite a bit into a single flat Flambeau box. Here's the rule you want to follow: Cover all three basic zones of the water column, top, middle and bottom. That'll have you prepared for all situations. For surface lures, get a few poppers, walking baits, buzzbaits and maybe some hollow frogs. For the middle of the water column, add some crankbaits, spinnerbaits and the amazingly versatile soft swimbait. Last but not least, for times when you want to be bumping the bottom, you'll need some jigs and the good old Texas Rig.
In order to complete your lure selection, you'll want to have a varied selection of soft plastics in different sizes and shapes, but again, that doesn't mean you need an overwhelming amount. I divide them into three categories: worms and soft stickbaits; swimbaits; and craws/creatures. You really don't need much more to catch bass anywhere they swim.
Finally, throw a few accessories in the side pockets where you can access them quickly. Those include tools like scissors and pliers, along with extra line, scent, dipping dye, and of course sunscreen. Keep them sealed tight so you don't end up with a mess. Now you're prepared for just about anything you might encounter on the water, and your bag won't weigh you down. If you're a beginning angler, I hope              that this simple guide helps you become better and more efficient, and ensures that you have the right gear at all times. There's no reason to be intimidated.
_____________________________________________________________________________________________________________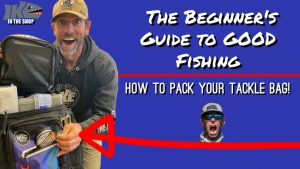 ___________________________________________________________________________________________
Like Ike on Facebook, and follow him on Instagram and TikTok for fishing and fun content.
Subscribe to Mike's YouTube channel, to ensure you see every adventure video. (Download the YouTube app on your phone and the videos will come to you automatically.)
Return to Mike Iaconelli's website