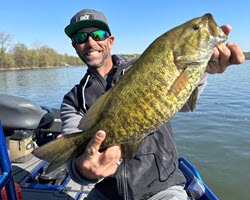 While a crankbait is a great choice for transient prespawn bass, it's not the best option in every circumstance. Another lure that just about never leaves my deck this time of year, especially if I'm around big fish in stained to dirty water, is a spinnerbait. We tend to have a lot of rain early in the season and the water gets color quickly, so this is one I can't live without.

It's been cold, but now water and air temperatures are creeping up. The days are longer, with more daylight. Those fish want to be headed toward their spawning zone. As they move along those transitional banks, a spinnerbait can intercept them—but not just any spinnerbait.
A prespawn spinnerbait is different from the ones I use in the post-spawn, summer, or fall. One of my favorites is a single-bladed model, especially a short-armed version. It throws out a distinctive thump. The second is a Double Colorado. Usually, that means a small Indiana in the lead, followed by a larger Colorado on the tail. This too puts out a ton of vibration. You can generally leave the Dual Willows at home.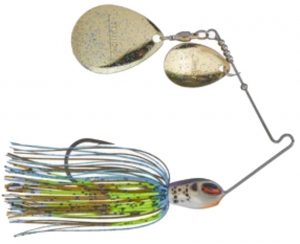 This is one of the few times of the year when I almost always use some form of trailer on the spinnerbait. It provides extra action, extra water displacement, and the kick adds to the visual appeal. Some spinnerbaits, like the Molix Lover, have a twin tail made of extra-long silicone included. You can even make your own. Alternatively, you can add a soft plastic trailer. One of my favorites is a 3- to 5-inch single-tailed grub. I bite off 1/8- to 1/4-inch of plastic off the head and then thread it on the hook. The key here is that the curl of the tail should be opposite the bend of the hook. If I'm adding a trailer, I almost never add a trailer hook.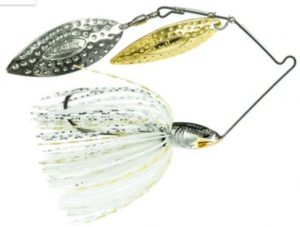 Next, you need to figure out where to fish and the specific type or types of cover that the fish are using. I tend to focus on transition banks, especially those with a 45-degree angle. Targets might include isolated clumps of grass. Rocks, like chunk rocks and isolated boulders, are great, too, especially rocks that mix with something else. Finally, wood cover—like isolated stumps, standing timber, and docks—can all hold fish as they move through the area.
Once you've located likely areas, it's critical that you fish the lure properly for these conditions. Use what I call the "slow roll stutter" technique. If you want to see a master of this, watch some footage of Jason Christie.  Simply put, you cast the lure past the isolated cover you're targeting. Let it sink to the bottom, usually in the 2- to 6-foot zone, but stay aware of what's going on as it sinks because sometimes they'll eat it as it helicopters down. When it hits the bottom, start your slow roll. That's exactly what it sounds like. Turn the handle slowly and methodically, feeling the vibration as it goes.
As you approach the stump or other cover, there are two things we want to do: (1) hit the cover, and (2) "stutter" the reel. What is stuttering the reel? What I do is give the reel a quick turn and then stop it. Sometimes I'll flick the rod tip a little bit as I pause. All of this changes the rhythm of the blade or blades, and that generates strikes. The rod will often load up right then, and it's often a bigger-than-average fish.
This is a really fun time of the year to fish, and if you keep a spinnerbait handy in cooler, dirtier water, you can expect to have some real success.
_______________________________________________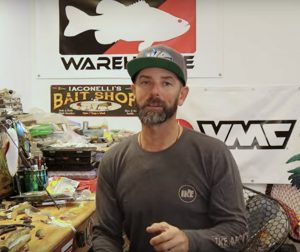 Like Ike on Facebook, and follow him on Instagram and TikTok for fishing and fun content.
Subscribe to Mike's YouTube channel, to ensure you see every adventure video. (Download the YouTube app on your phone and the videos will come to you automatically.)
Return to Mike Iaconelli's website.