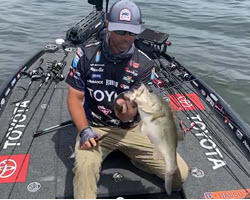 May is really one of my favorite months of the year to fish for bass no matter where I find myself in the country. Depending on where you are, it's either the late spring or the front side of the summer and that's a terrific time to catch fish.
Today I want to share with you four baits that never leave my boat in May. Two of them are primarily for north of the Mason-Dixon Line (from Virginia and Maryland on up) and two are for south of it (from the Carolinas on down to Texas and Florida).
Actually, the first two are my primary tools up north, but they'll work in the south as well. My number one choice for a long time has been the good old shakey head. One reason behind that statement is that it excels in all three phases of the spawn: Fish may be prespawn in places like Maine or New York, and it works there; they may be bedding a little bit south of there, and it's a fantastic bed bait; and if they're post-spawn the action and movement will get you a lot of bites.

I start with a 5- to 7-inch straight-tailed worm like the Berkley Bottom Hopper, biting off an 1/8 of an inch from the head to create a flat spot for the jig head to seat itself. My favorite jig head these days, and it's kind of a sleeper, is the VMC Rugby Head. It has an offset hook which makes it easy to Texas Rig and keeps it weedless. No matter which worm you choose, make sure it has a flat side. That's critical. When you rig the lure, it should be facing down, and the worm as a whole should be nice and straight.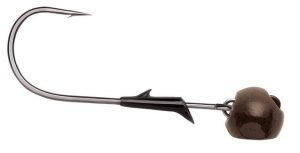 I throw the shakey head where I think a bass might be and then let it fall on a semi-slack line. That flat side causes it to glide instead of falling like a rock. That triggers bites. If it makes it down to the bottom, all I'm going to do is hold the rod tip at about 1 o'clock and shake the tip. I don't care where you live, with that nose down and the tail up, bass can't resist it.
Number two is another soft plastic, the tail-weighted French fry. I've talked about it quite a bit, and I'm surprised at how few people fish it. Start with a 3- to 5-inch stubby piece of plastic like the Berkley Power Noodle and use a light to medium wire hook so you don't overpower it. Just

like the shakey head, you want the flat side of the worm facing down to make it glide. Then take an appropriately sized nail weight and stick it in the back. That's the key: it makes it glide backwards. For prespawn fish around cover like docks and trees, it'll glide back into the holes. For bedding fish, it'll slide backwards into the bed, which they can't stand. For fry guarders, it will similarly glide back through the young ones, and the bass simply have to attack.
Now let's go to the other ones, two lures that are particularly good in the post-spawn. That's the scenario you'll find yourself facing in many parts of the country south of the Mason-Dixon line. The males are off of the beds, guarding fry, and even after that they may hang around shallow for a while. Meanwhile, the females are moving toward the first break outside of the spawning zone.

My first lure for this situation is actually a family of lures: topwaters. May and October are typically the best months for this incredibly fun way to fish, and the one you choose may depend on your particular fishery. If you want to cover a lot of water without a lot of cover, try a walking bait like the Rapala Skitter V. In heavier cover where trebles will constantly foul, use a buzzbait. If you suspect that bass are around specific targets like a stump or a patch of grass, a popper is often the best choice. Last but not least, don't sleep on the prop bait this month. As bass finish spawning, panfish start to do it. Like the popper, you can keep the prop bait in the strike zone for a long time around bluegill beds, and the bass cruising nearby just have to investigate.
Number four is another post-spawn killer, particularly the further south you go. It's a crankbait, and for me that usually means the DT Series from Rapala. Which one? Well, it depends on the depth – you want one that will deflect off the bottom, which could mean a DT Fat 1 or something that dives much dee

per like a DT20. Find the first piece of cover outside of the coves where you caught spawning bass last month, and that's where the females start ganging up. Two of my favorites are the DT10 and DT14, but tailor your choices to the specific depth zones where bass live on your local lake or river.
Those are my top four for this month. It's not that I won't throw other things, but by simplifying the process and the choices, I keep my baits wet and more often than not I end up filling my livewells.
_______________________________________________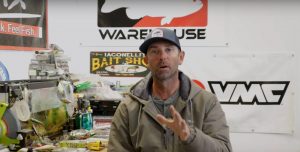 _______________________________________________
Like Ike on Facebook, and follow him on Instagram and TikTok for fishing and fun content.
Subscribe to Mike's YouTube channel, to ensure you see every adventure video. (Download the YouTube app on your phone and the videos will come to you automatically.)
Return to Mike Iaconelli's website