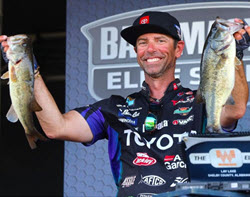 Most bass anglers know about fluke-style soft plastics. They can be deadly from coast to coast in a variety of circumstances. However, most of them rig it in a similar manner. What I want to tell you about today is a rigging method that's new and which gives these already-effective lures a unique side-to-side action.

It's something that's super easy to do, and you probably already have the components in your garage or your boat. Start with a simple soft plastic jerkbait in a reasonably large size—4-, 5- or even 6-inches. I like the Berkley Powerbait Jerk Shad, but there are plenty of others that work, too.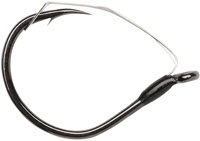 Next, grab a hook, but not the offset type hook you might've been expecting. Instead, I like a wacky hook — either a 1 to 3/0 VMC Weedless wacky for when I'm fishing shallow, skipping it around cover; or a 1/8 to ¼ ounce weighted version when I want to get it a little bit deeper.
You'll also need what I typically refer to as "hitchhikers." You may know them as spring locks or keeper locks. Get the smallest size you can find. These are the key to the perfect motion.
Last but not least you'll need a pair of scissors or a straight razor blade. I like to cut the fluke directly in half. You can eyeball it, but make sure that your cut is straight. Now you have two segments. You might think I've ruined the bait, but those two distinct parts are the key to getting that lazy action.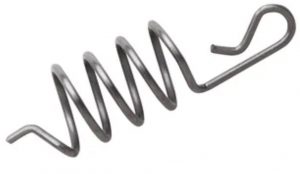 Now take your two small springs and interlock them at the back end so that the pointy ends are facing in opposite directions. You'll want to screw those pointy ends into the "meat" of the fluke, not the lower part with the slit, where they'll have trouble staying in place. Twist them in a clockwise motion – you'll feel it catch. Add a drop or two of Super Glue to keep them in place but still mobile. Now the fluke has a joint just like a Rapala Jointed Minnow or a big glide bait.

Remember that hook? It's another key to the presentation. This lure needs maximum motion so I'm not going to thread it on. Instead, I'll nose hook the lure, regardless of whether I'm using the regular wacky hook or the weighted version. If there's a lot of cover, I'll fasten down the wire weed guard. If I'm in relatively open water I'll take my side cutters and snip it off for more hook point exposure.
Now for the retrieve. It's totally different than what you might expect. With a standard fluke rig, you're using your wrist to make the lure come alive. You're not going to do that here. Instead, all you need is a slow, steady retrieve followed by the occasional twitch and pause. When the water hits the joint, it sends the sides in different directions, creating that lazy swim. Every eight or ten cranks I'll throw in that small twitch or pause. That disrupts the steady movement, throws the lure off center, and tends to trigger strikes.
This is a great way to show fish something new while using a lure that's likely already in your arsenal. It has rekindled my love of fluke fishing and helped me catch more fish. It can do the same thing for you, too.
______________________________________________________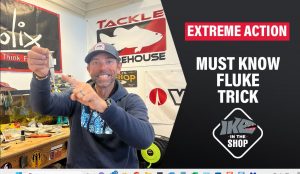 Like Ike on Facebook, and follow him on Instagram and TikTok for fishing and fun content.
Subscribe to Mike's YouTube channel, to ensure you see every adventure video. (Download the YouTube app on your phone and the videos will come to you automatically.)
Return to Mike Iaconelli's website