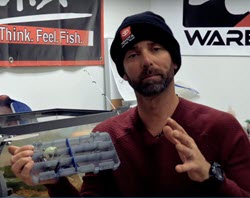 There must be a thousand fishing lures on the market. Choosing only six of them for this blog was no easy task. But sometimes we need to downsize so I did just that. I've listed the baits below in no particular order. The first three are power fishing lures. The last three are more in the finesse category.
A crankbait
This is a great bait because you can cover a lot of water with one and because they search out the bass. It's almost like they're calling the fish in to them.

Although there are hundreds of them available, picking one isn't all that tough. Find one that runs at the depth, or just a little below that, of the water you're fishing. That way it'll deflect off of stuff in the water. That'll trigger strikes.
Color is just as easy. Pick one that matches the local forage where you're fishing. That is really important. Get as close as possible. Bass don't have very long to look at a crankbait so first impressions are important.
If I had to pick a favorite I'd go with a Rapala DT 4 or a Rapala DT 6.
A spinnerbait
This one was a really tough choice between a spinnerbait and a vibrating jig. I went with the spinnerbait because it's more versatile and won't snag nearly as much. You can fish one of these things in places you couldn't throw a vibrating jig and definitely not a crankbait with its treble hooks.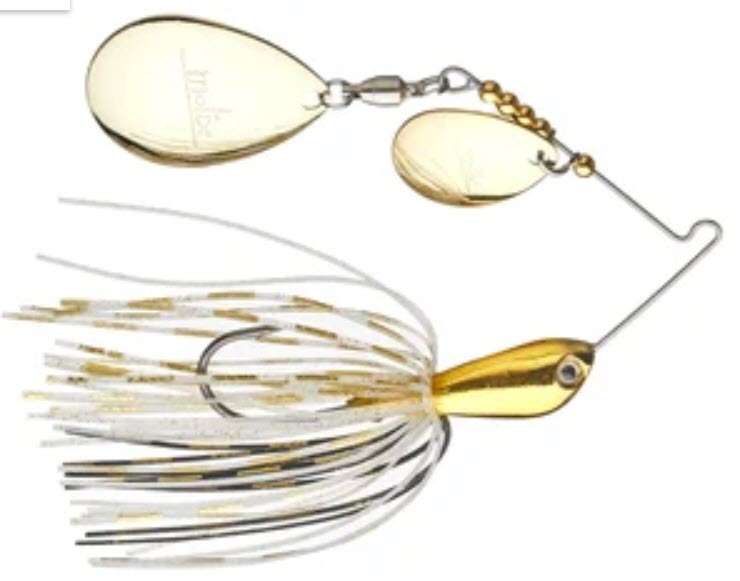 And, a spinnerbait looks about as realistic as anything made by man can look. They're really effective under all kinds of conditions.
Every bass-head should have a 1/2-ounce shad colored one with them at all times. My favorite is a Molix Water Slash with either Colorado or willow blades. Go with Colorado when you want more thump. Otherwise fish with willow leaf blades.
A Jig
I'm talking about a traditional skirted jig. With the exception of a huge swimbait, skirted jigs have accounted for more giant bass than any other lure. That's a fact!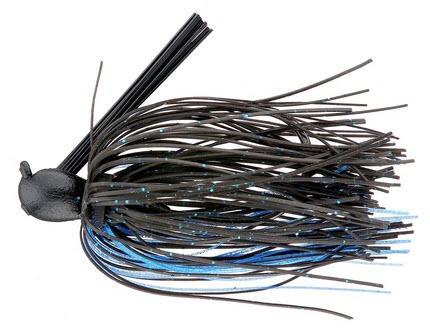 The great thing about them is that they're so versatile. You can fish them 12 months a year, at any depth and in any type of structure or cover. Along with that ways you can fish one are endless. You can drag or hop them along the bottom, swim them or use a combination of the two. A skirted jig is truly a must-have lure for any bass angler.
I have all sorts of sizes and styles. But if I had to pick just one it would be a Missile Baits Ike's Mini Flip Flipping Jig in the 1/2-ounce size. My color choice would be black-and-blue.
A boot-tail plastic swimbait
This one wouldn't have been on my list five years ago but recently I've been fishing swimbaits more and more. I like them because they're super versatile but the number one reason I fish with them is because they look like the real thing in water that's clear to stained.

Most of the ones I throw are small. I want them to look like an easy meal, something that's swimming along that doesn't have a clue its about to be eaten by a giant bass.
Once again, it's important here to pick a color that matches the hatch. A small swimbait is primarily a sight-type of bait so you want it to look like what the bass usually see where they live.
My favorite is a Berkley Powerbait Power Swimmer. I usually go with the 3.3 or 3.8-inch size and I throw it with a 1/4-ounce VMC Dominator head. Pick the style you like the best. They're all good.
A soft stickbait
This is the go-to bait for when the bite is tough, or beyond tough. I like it for when nothing else will get you a bite. There's something about a soft stickbait that bass love, and it doesn't seem to matter where they live or what they eat.

Another thing about a soft stickbait is that you can rig it almost anyway you want. You can Neko rig one, wacky rig one, Carolina rig one or Texas rig one. And those are just the rigs I can think of real quick. The truth is that your rigging options are endless. There's no way you can rig one wrong.
I prefer something in the 4 to 5-inch size and I always go with a Berkley Powerbait Maxscent The General Worm. My color choices are pretty much like all the others — match the hatch. If you're uncertain, go with green pumpkin. You can't go wrong with it.
A shaky head
This last slot was a tossup between a Texas rigged creature bait and a shaky head. But, I agreed to do only six and so the last slot goes to a shaky head. The reason for that is that a shaky head is a great lure for when the bite is tough. You know, when a cold front just blew through or when there's about a thousand guys in front of you fishing the same stuff.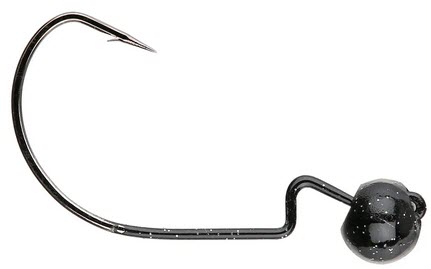 A VMC Ike Approved Rugby Jig in the 3/16-ounce size works best for me, although I do go up or down sometimes depending upon the depth of the water and wind conditions.
I mostly prefer a straight tail worm. What kind doesn't matter much as long as it has a flat side on the bottom. That's important because that flat side will make the worm glide as it falls. That glide will get you a lot of bites when things are tough.
My worms are usually in the 4 to 6-inch size and, like with all these baits, I try to match the hatch. I fish my shaky heads on spinning tackle.
There you have it — six lures every bass angler should own and carry with them. They're all versatile and, if you remember to match the hatch, you'll catch a lot of bass with them.
___________________________________________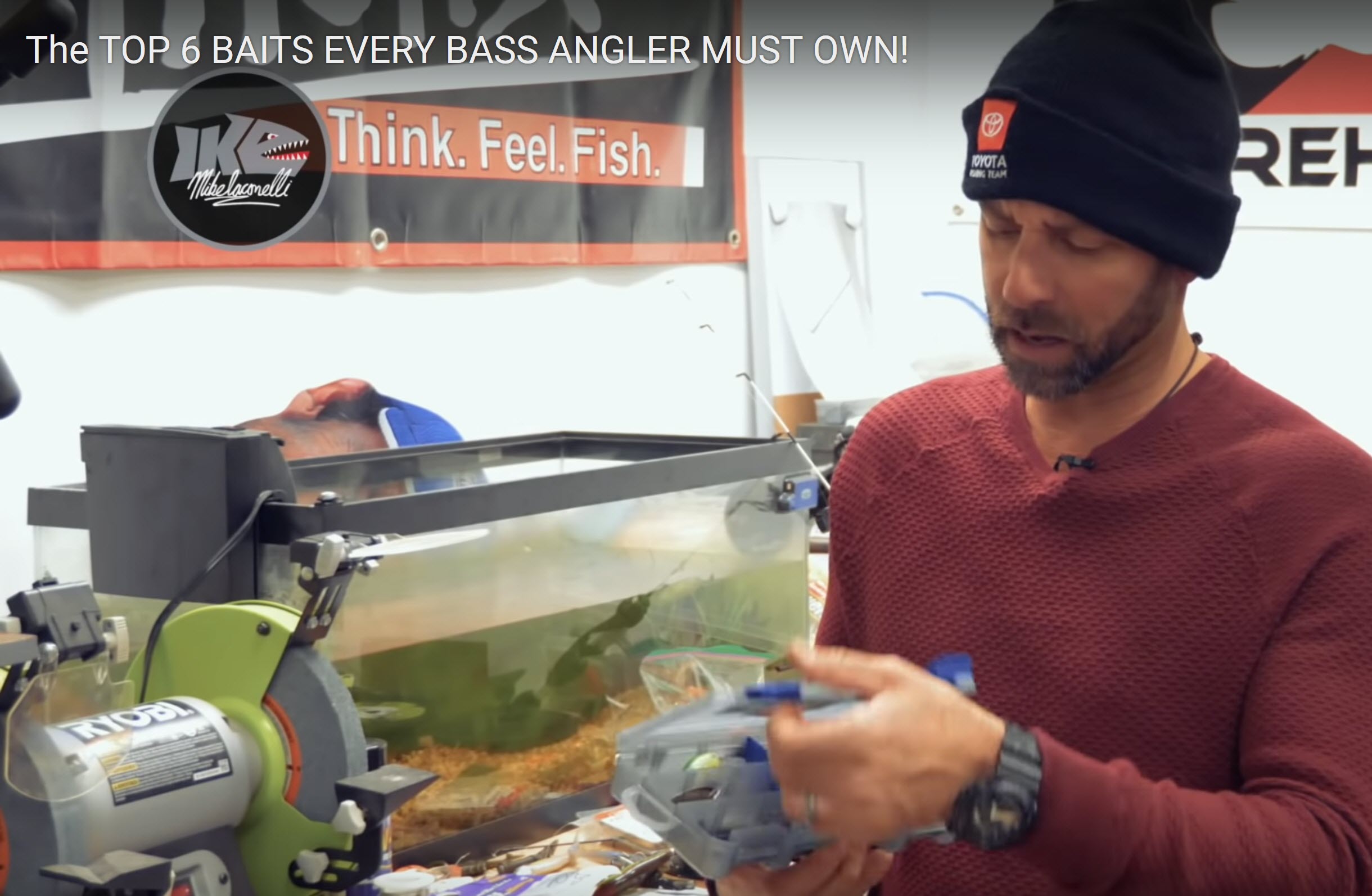 Take a peek inside Mike's Flambeau box.
__________________________________________
Like Ike on Facebook,  and follow him on Instagram for fishing and fun content.
Subscribe to Mike's YouTube channel, Going Ike,  to ensure you see every adventure video.
Return to Mike Iaconelli's website