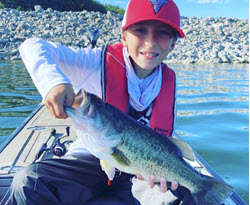 Whether you're getting back into fishing, learning to fish for the first time, or trying to teach kids how to fish, there are simple ways to get the ball rolling. When it comes to kids in particular, your goal should be to keep it fun. That means getting bites – lots of bites. Fortunately, there's a really simple rig that can make that happen. It's basically what I used with all four of my kids, and through the Ike Foundation to get many more kids on the right track.
In order to really get kids involved, it's critical that your rig be easy to set up and easy to use. It also helps if it's very visual. The rig that I'm about to describe nails it on all counts.
The first thing you need is a float or bobber. There are many different shapes and styles, and none of them are really wrong, but my one piece of advice is not to go too big. Start with a small or moderate-sized bobber. That makes it easier for fish of any size to pull it under. I like the slender, elongated shapes best, especially the one with a weight on one end. That keeps it vertical in the water and also helps with casting. No matter which one you choose, though, they're all pretty simple. There are clips at each end that make rigging a snap, and it takes two seconds to adjust the depth.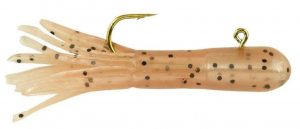 The next thing you need is the bait. For kids, it's important to use something that will catch anything – bluegill, crappie, bass, trout, literally anything that swims. We want them to get a lot of bites. That's why I recommend that you start with what I call a "micro tube." It's a little pre-rigged deal, usually 1/16 or 1/8 ounce with an exposed hook, and just about anything that swims will bite it.
Together, the whole thing is so easy and so visual. You just cast it out and let it sit. If there's any wind or current at all, that will move the bobber, which in turn activates the tube, drawing attention from any nearby fish. They'll grab it, the float will go down, and the child will immediately see the connection.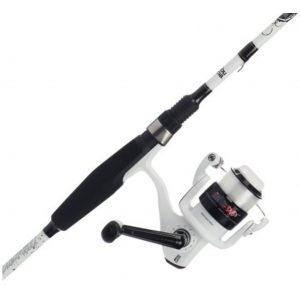 To be honest, it's not just for kids. I still love watching that float dart under the surface. The anticipation makes it almost mesmerizing. Once that young man or young women experiences the first bite, they'll want more. Another nice thing about this rig is that you don't really need to even set the hook. Just start reeling and nine times out of ten the fish will hook themselves.
Finally, a word on the rod and reel. You don't need anything specialized to get started. A basic spinning or spincasting (also known as "push button") rod and reel will suffice. Just make sure that it's a light or medium-light action. That way it'll bend under the stress of any fish and make even a little sunfish feel like a giant.
____________________________________________________________________________________
____________________________________________________________________________________
Like Ike on Facebook, and follow him on Instagram and TikTok for fishing and fun content.
Subscribe to Mike's YouTube channel, to ensure you see every adventure video. (Download the YouTube app on your phone and the videos will come to you automatically.)
Return to Mike Iaconelli's website