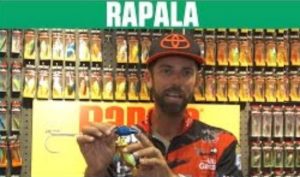 I have to make a confession here. I hadn't thought about Rapala's Original Floater in forever — until recently. I had them, for sure. I'd just been using other baits. But then something happened that reminded me of why I should put a handful of them in my boat.
I was fishing with another pro angler who was wearing me out with a floating jerkbait. His was made by another company. Nevertheless, watching him I was reminded of my Original Floaters.  The next day I fish with them. The butt whoopin' stopped.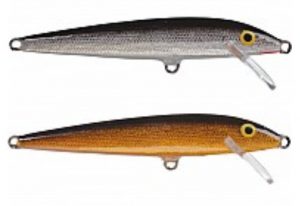 They're good baits. They'll catch bass from early spring into late fall. You can fish them as a surface running jerkbait or as a subsurface jerkbait. They imitate a wounded, struggling minnow perfectly. They're pretty darn close to perfect.
They come in a variety of sizes. One the them will match any size of forage anywhere you're fishing. My preference for bass fishing is the F09, F11 or F13.
I only use two colors. If the water's clear and the forge is silver, I go with  silver sides and a black back. Rapala calls it Silver. If the water's stained or the forage has a gold cast to it, I switch to gold sides and a black back. Rapala calls that one Gold.
As good as this lure is out of the box, I do make two changes before I start fishing. First, I add a split ring or a snap to the nose eye. I think that gives it a better shimmy on the jerk. Second, I replace the rear treble hook with a feathered one, same size.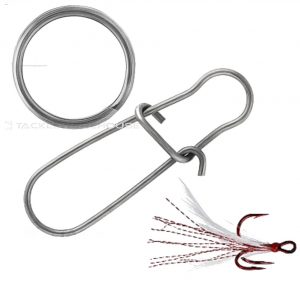 That creates a subtle sway back and forth when it's in the pause.
Fishing the Rapala Original Floater is as easy as anything. I start with a 7 foot, 6 inch medium action spinning rod. Abu Garcia has several models that do a good job with this lure. I add a 30 size spinning reel to that rod. That's my basic outfit.  [Editor's note, April 3, 2017: Catch Abu Garcia's spring sale, with some items 60% off, while supplies last.]
I'm making long casts so I spool with braid and add a fairly long  leader to it. The mono is critical. This is a floating bait. The monofilament helps keep it up. Fluorocarbon would draw it down. You don't want that.
Once you're all set up all you really have to do is throw past your target and bring the bait back with twitches — use your wrist — while letting it pause every so often. While it's in the pause let it float up to the surface and lie perfectly still until the rings disappear. Vary your speed and cadence until you find what the fish want. And remember, that'll change as the day wears along.
This is a super good, shallow lure. We all have a couple of them around. Dust them off and give one a try this year. You won't regret it.
——————————————————-
Want to learn more about fishing with Rapala's original floater and some of the other older lures in your tackle box?  The Bass University has a 1-hour online video with Pete Gluszek, "dean" of the Bass University, talking about rigging and fishing with worms, lizards, craws, tubes, etc.  See a preview here.  (Subscribe now and get a 10-day free trial!)   Subscribers, login and type "floater" into the search box to bring up the full video.
——————————————
Click here to see Ike's latest Going Ike episodes on YouTube.     (Subscribe! See weekly episodes. It's free!)
Like Ike on Facebook,  and follow him on Instagram  and   Twitter to see weekly Vlog for Going Ike episode, along with fishing and fun content.
——————————————————-