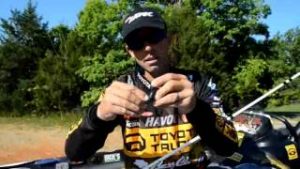 It's the postspawn all around the country and with that comes a topwater bite. The thing is, though, sometimes a noisy, splashy topwater plug runs them off rather than fills the livewell. When that happens I go subtle. That means I reach for a Berkley HAVOC Subwoofer.
It's a unique bait in that it has a short (4 inches), fat body with a classic cut tail that'll move a lot of water when you crank it fast. And, you can do that with this lure because of the way the body is designed. It not only has a fat, shad-like look but it also has a kind of keel on the bottom that keeps it upright and forces it to run straight and true no matter how fast you crank it back.

What's so important about all of this is that it gives you the option of fishing with a subtle buzz bait, something that you can Texas rig and throw into almost anything without the fear of a hangup.
It's especially good in clear water when the fish are skittish or when there's a lot of pressure and the bass have seen every topwater plug ever made three or four times a day for the last couple of weeks.
I Texas rig mine with a VMC Ike Approved Wide Gap Hook. That gives me enough bite to nail and hold the biggest bass but at the same time lets me keep the hook point protected from everything else in the lake or river.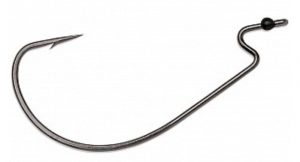 In heavy cover I like to throw my Subwoofer with a 7 foot, 4 inch medium-heavy Abu Garcia casting rod along with a high speed Abu Garcia reel and 40-pound-test Berkley braid line. That'll get me through almost anything.

Under lighter conditions I go with a 7 foot, 6 inch medium action Abu Garcia spinning rod and a Berkley fluorocarbon   leader.
There are two ways I fish a Subwoofer in the postspawn:
The first is with a steady retrieve. I hold my rod up high and just reel my bait straight back to the boat. There's nothing fancy here except that I fish the thickest, nastiest stuff I can find. This rig will rarely hang and if it does it's no big deal. Plastics and hooks are cheap. This isn't an expensive hard bait.
The second is with a pop and reel retrieve. The Subwoofer has a cupped nose, unlike a lot of similar baits. You can fish it along the surface with a popping motion — pop it two or three times and then reel in the slack — that'll oftentimes pull bass in from long distances.
Regardless of how you fish it, however, be alert for missed strikes. When I have that happen to me I lean into the bait with my rod. The Subwoofer will fall slowly and gently with a shimmy that'll give the bass a chance to turn around and come back for a second attack. That's often the one that results in a catch.
There are topwater lures around that'll produce, and they are very different from the ones you've been throwing for years. The Subwoofer is one of them.
——————————————————-
Want to learn more about postspawn and topwater fishing?  The Bass University has more than ten  1-hour online video about those two topics.  See a preview here.  Type "topwater" or "postspawn" into the search box to bring up the previews. (Subscribe now and get a 10-day free trial!)
Subscribers, login and type "topwater" or "postspawn" into the search box to bring up the full video.
—————————————–
Click here to see Ike's latest Going Ike episodes on YouTube.     (Subscribe! See weekly episodes. It's free!)
Like Ike on Facebook,  and follow him on Instagram  and  Twitter to see weekly Vlog for Going Ike episode, along with fishing and fun content.
——————————————————-