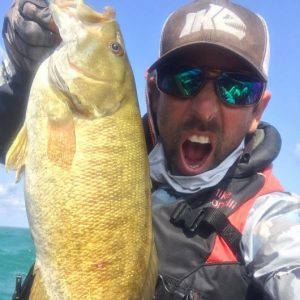 Those of you have been following what I write and preach know that I'm a big believer in scent products. Some anglers think they attract bass. Others think they mask foreign odors. I say that misses the point. What they really do is work. Nowhere is that more true than with smallmouth.
All bass use their senses to eat. They feel with their lateral lines, they hear some way, they feel and they can see. They also have a sense of smell and taste. Smallmouth bass seem to be able to smell and taste better than any of the others, certainly better than largemouth. I don't have any scientific evidence to back me up on that but, as an angler with decades of experience catching both species, I can tell you I believe it's true.
In many cases I won't bother to put scents on my hard baits. I throw them right out of the package, but I never do that when my targets look brown. I put scent on everything that goes in the water.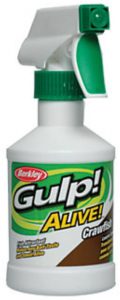 My strong preference is for Berkley Gulp! Alive spray. It's a relatively new product. Berkley describes it as the next generation of Gulp! Attractant. Anytime you see me come in from a smallmouth event — we've had a lot of them lately on the Bassmaster Elite Series — you'll see a couple of bottles of it lying in the bottom of my boat.
What I like about it is that it's strong, lasts a long time once it's on my bait and, because it's in a spray bottle, it's easy and neat to use. As much as I like it to smell up my lures I don't want it all over my hands and gloves. That gets nasty after a few hours.
Beyond that I can change scents depending on what type of lure I'm throwing and what type of forage they're eating. If they're on shad, I have a specific scent for that. If they're eating on the bottom, I have a choice between nightcrawler and crawdad. And, if all I want to do is cover my lure with something that stinks, I go with garlic.
Of course, all my plastics are scented. Most of them have the scent inserted right into the plastic itself. Berkley's new Powerbait Maxscent is unbelievable. I didn't think they could come up with anything better than what they already offered, but I was wrong.

Maxscent is a better product and because of chemical principles I don't understand they were able to marry Gulp! and PowerBait to get better scents, colorings and shapes in their plastics with it. I predict that it'll take over in a short period of time.
As of right now it doesn't come in a separate bottle but I'm hopeful it'll be offered that way in the future. If so, it'll add something special to other, ordinary plastics.
I wrote a whole blog about Maxscent a couple of weeks ago. If you're serious about your bass fishing I'd suggest you reread it so you have all the details.
Take it from me guys, add scent to every hard bait you throw or make sure it's in or on all of your plastics, especially if they're thrown towards a smallmouth bass. It's definitely worth the few dollars it costs. I had to learn that lesson the hard way. You don't.
___________________________________
Learn more about Gulp!Alive!
___________________________________
Like Ike on Facebook,  and follow him on Instagram and Twitter to see weekly Vlog for Going Ike episode, along with fishing and fun content.
Subscribe to Mike's YouTube channel, Going Ike,  to ensure you see every video.
Return to Mike Iaconelli's website videos.