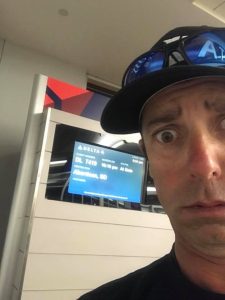 Hello, Orange, Texas.
As some of you have probably already picked up on thanks to my social media, I'm glad to be reporting to you from the Texas/Louisiana border, and a little piece of water known as the Sabine River. Yep! I'm heeeeere!
It's taken some creative scheduling, a little awkward travel, and a helluva lot of luck, but I'm happy to confirm that I'll be fishing this week in the Bassmaster Elite Series event on the Sabine. And I have to be straight-up honest: as of two weeks ago, I was totally out of this tournament!
Let me explain everything in detail.
We were originally scheduled to fish the Sabine back in March, but some really nasty weather caused B.A.S.S. to cancel those dates due to safety considerations. Safety first! No problem! But a few weeks later, when it was announced that B.A.S.S. had rescheduled the event for June 7-10?
Problem.
As most of you are probably already aware because of my social media, I'm involved in a project that has me traveling all over the world, chasing fish. I guess I won't be revealing too much by telling you that it's a television project unlike anything I've ever worked on before. It's a show on a non-traditional-fishing network with an international audience, and the potential to reach millions and millions of people who don't even fish!
It's just SO much bigger in scope and potential reach, and an amazing, potentially life-changing opportunity. But when those June dates for the Sabine were announced, man, my heart sank: I was already scheduled to be somewhere else in the world to work on this new show, and there was probably no changing that.
Here's why: unlike the traditional fishing shows I've done before – where there's maybe a cameraman and a producer, and three or four people, max – this new project has a crew of 10 or 15 people! There are multiple cameras, sound engineers, lighting engineers, etc. Everything has to be scheduled months and months ahead of time, and everything has to line up just right in order for this crew to function.
As far back as December, we had already scheduled June 7-10 for television, so, that was that. I wasn't willing to forego this amazing television opportunity. I was going to miss the Sabine River tournament.
Let me tell you, that really sucked for me! I'm slowly climbing back into the Angler of the Year points standings now, but to have missed a tournament would've been absolutely devastating for my chances to fish my 18th consecutive Bassmaster Classic.
When it all fell into place
It wasn't until I was driving away from Lake Travis after our last event that I got the final confirmation call: everything was going to work out! The people I'm working with on this show have understood my situation since Day 1. They know that I make my living fishing tournaments, they know how important making the Classic is to me, so they went to work rescheduling their team and changing dates around so I could get to the Sabine River.
I'm extremely excited about the opportunity, and I can't thank them enough for working so hard to make it happen. I feel good about the Sabine! I got a Top 30 there in 2015, and it reminds me a lot of where I grew up fishing the Delaware River. It's small, it'll be crowded, and there'll be a lot of 12- and 13-inch fish, but I'm totally confident in that environment.
Anglers need to be included in the decision-making
One thing I'm pretty disappointed in, though, is the way this Sabine River event was rescheduled without any consultation with the anglers. I don't disagree at all with B.A.S.S.'s decision to opt out of the original March dates – safety is the number one priority, and we've had a handful of events change location (or even be cancelled altogether!) in previous years – but I really can't understand why the anglers weren't involved in the process.
It's not just me; a whole lot of guys had obligations that were affected. Graduations, weddings, etc. We have precious little free time during the Elite season to schedule things with our families, friends and sponsors, so it boggles my mind a little that we (the athletes who everybody is coming out to see!) weren't factored into the decision-making whatsoever when this tournament was reset for June.
That all seems very strange to me.
I guess the most positive thing about that is that the issue of angler participation has now been addressed, and moving forward, maybe this was a good stepping stone for the anglers to have some meaningful participation when decisions like this are made.
I'll share more about this amazing TV project in the coming months, but for now, I'm focused on finding fish on the Sabine River and having a good event. It took a lot for me to get here, so I'm going to make the best of it!
__________________________________________
Follow me on Facebook to learn the latest on everything!