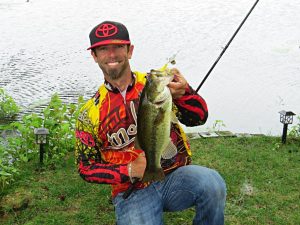 From now until winter, buzzbaits will prove to be some of the most effective lures you can throw. They are good in a wide variety of cover situations, or when there's no cover at all, and they're easy to fish.
This is the way I see it…
My preference in buzzbaits is the Molix Lover Buzz and the Lover Buzz SS. They're a little different from any of the others that are around. Instead of having a sharp bend down with a wire back to the shaft it has a short bend down and the wire drops right into the head of the bait.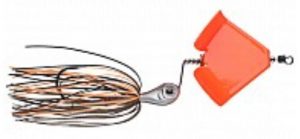 What this does is keep the lure up on top where it's designed to work. If you make a long cast with a traditional buzzbait you have trouble keeping it up at the beginning of your retrieve. But with the Lover it's easy. Just crank.
Another thing I like about the Lover is that it comes in three models and in two weights. The 1/2-ounce model comes in a quiet version and in a squeaky version. The 1/4-ounce version is quiet. They all have the same basic design so they all fish pretty much the same.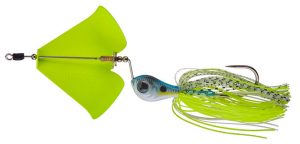 The smallest is the Lover Buzz SS Mini or Junior. It weighs in at only 1/4 of an ounce and it squeaks enough to keep most anglers, and the bass, happy. There's also a 1/2-ounce model that doesn't squeak. It's called the Lover Buzz. The one that does is called the Lover Buzz SS.
As far as color is concerned, Molix offers these baits in a wide variety of hues. Fish the one that gives you the most confidence. I like light and dark colors, and I fish them in the usual way. When it's light, I go light. When it's dark, I go dark.
About half the time I add a plastic bait to my Lover. Sometimes I take the skirt off, sometimes I trim it back and sometimes I leave it on. There's no good rule for this. All I can tell you is to go with your gut.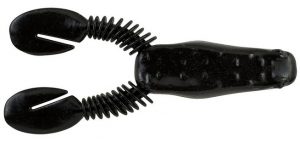 My favorite plastic for this is probably the Berkley Powerbait Rib Toad. It has a cylindrical body and is designed to make a disturbance. In truth, though, I often use something with kicker legs like a Berkley Powerbait Kicker Frog. It seems to be almost as effective.
Sometimes you can get a hot bite going by taking the skirt off a Mini and replacing it with a Berkley Havoc Pit Boss Jr. I don't know why that combination is so effective, but it definitely will do the trick at times. A number of Bassmaster Elite Series pros are using it. That should tell you something.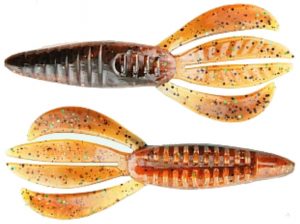 The keeper on the hook usually keeps my plastic trailer in place. But sometimes they do have a tendency to slide down the shaft. When that happens I stick them in place with a drop of Gorilla Glue.
I use a trailer hook about 90 percent of the time, especially when I'm fishing a tournament. The only time I don't is when the cover is so heavy that I hang on every cast. My preference here is the VMC Ike Approved Trailer Hook. I only go with two sizes, a 1/0 or a 2/0. I don't like anything smaller or bigger.
When you fish a buzzbait don't be afraid to speed up or slow down your presentation during the same cast. Steady will catch you a ton of bass but sometimes a change in speed is what it takes. And, whenever possible bounce your lure off something. That gets their attention.
One final thing: I see a lot of guys fishing their buzzbaits on too stiff of a rod. When it's all said and done these are topwater lures. You need a little delay in your hookset. I fish mine on a medium action Abu Garcia "Ike" Series Delay Series rod, 7 foot. It has a moderate taper. This is the same rod I use for my spinnerbaits and my bladed jigs.

My reel is an Abu Garcia REVO high-speed model.
I prefer monofilament line — Berkley Trilene Sensation — whenever possible. If the cover is super heavy, I'll go with braid but I really don't like it. There's no stretch to braided line. Again, you need a delay in your hookset. Mono gives you that along with the moderate taper on my rod.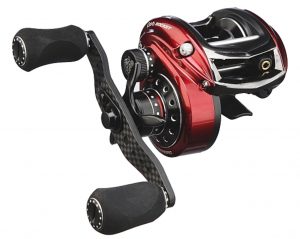 Don't be afraid to go on top of the water this year with fast moving, noisy baits. Bass love 'em.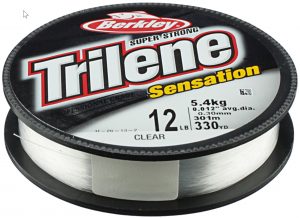 ____________________________________________________________________
Here what Mike said about the Molix Buzzbait when it first came out . . .
(Subscribe to YouTube to see Mike's videos.)
_______________________________________________________________
Like Ike on Facebook,  and follow him on Instagram and Twitter to see weekly Vlog for Going Ike episode, along with fishing and fun content.
Subscribe to Mike's YouTube channel, Going Ike,  to ensure you see every adventure video.
Return to Mike Iaconelli's website