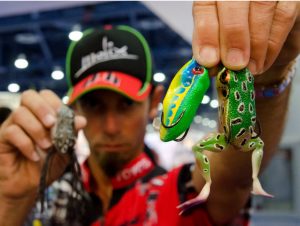 When it comes to bass fishing there's no better late summer and fall topwater bait than a frog, and there are no better frogs than the Molix Sneaky Frog and the Molix Supernato.
The Sneaky Frog is a super good open water or sparse cover lure. It has a kind of elongated body and a center weight. Both of them combined let it walk in a smooth and sexy way, but without much forward movement. It'll attract bass from deep water as well as shallow water.
The center weight is really the thing. Most frogs are weighted in the rear. That pushes the nose up and helps them walk but it also forces them to move forward as they walk back towards the boat. The Sneaky Frog's center weight makes it lay horizontally on the water's surface. The end result is little or no forward movement.

That is really important. There's nothing that'll get a predators attention like something that looks helpless, something struggling back and forth that's unable to get away. It's like it has a sign on it that says, EASY MEAL.

The Sneaky Frog comes in two sizes and a number of fish catching colors. I like Black Mamba under low light conditions but I usually switch to something lighter and more natural looking — Ghost or Gray Mouse — when there's more light.
For those times when you're fishing in heavy cover you'll want a couple of Supernatos. They make a serious commotion when they're moved around in nasty stuff and they're pretty close to totally weedless so you won't waste very many casts by getting hung up in something.

Basically they're half frog and half crankbait. That design helps bass find them regardless of how heavy or dense the cover is where you're fishing them.
The weight on this model is farther back in the body of the frog. That pushes the nose up a little, but not as much as a conventional frog, which helps it splash around in the water.  Of course, it also causes it to move forward a little as you work it on the surface.

Like its open water brother, the Supernato comes in two sizes and plenty of colors. The colors aren't the same as the Sneaky Frog ones, though. For most heavy cover applications I prefer either Charming Shad or Leopard Frog.
Pick up a few of these frogs before your next outing. They really do get the job done.
____________________________________________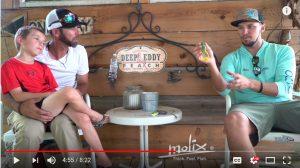 More about the Sneaky Frog and Supernato from Mike and Molix expert, Carl Jocumsen.
_____________________________________________
Like Ike on Facebook,  and follow him on Instagram and Twitter to see weekly Vlog for Going Ike episode, along with fishing and fun content.
Subscribe to Mike's YouTube channel, Going Ike,  to ensure you see every adventure video.
Return to Mike Iaconelli's website