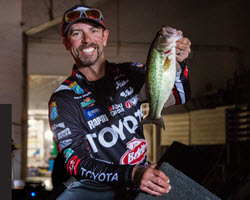 Last time we talked mostly about the conditions and where I fished. Here's the scoop on what I fished with, and why.
My best spot, among equals, was the natural flat rock I talked about. My lure choice for that was a Rapala DT 6 in Caribbean Shad. It's a fairly small crankbait — 2-inches, 3/8-ounce — and it'll dive in the 6 foot range which was perfect for what I was doing.

Remember that I said the rock was between four and six feet deep. I wanted something that would strike the rock easily and deflect off of it quickly. The small size and light weight of a DT 6 along with its 6 foot running depth did those things perfectly. It was like that bait was made for exactly where I was and what I wanted.
Caribbean Shad is a different kind of color. It's part of the Ike's Custom Ink Series that I designed especially for Rapala. The main body is a faded chartreuse that blends into a blue back, and it has a little bit of orange on the throat. When it's in murky, stained or muddy water it looks like a shad but at the same time it has enough color to it that it'll actually help a bass find it.

But that was on the first day. On the last day the water cleaned up somewhat. I'd say it had maybe 3 inches more visibility to it. That may not sound like much to us humans but it's huge to a bass. It allows them to see a lot farther
and to zero in on a moving object quicker.
For those reasons I switched to a Smash color — also Ike's Custom Ink — on my DT 6. It's more white with some chartreuse and a black back. Basically, in cleaner water it's pretty much a traditional shad color. That's what I wanted.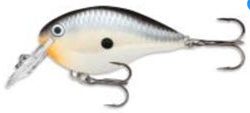 On my other best spot, again among equals, were the gravel and sandbars in 1 to 3 feet of water. For those places I swapped my Rapala DT 6 for a Rapala DT Flat 3 in Penguin. Once again, that's an Ike's Custom Ink. It's a natural looking shad finish — white belly, silver sides, black back, small spot of orange on the throat.
I picked this lure because I wanted a tighter wiggle and a smaller profile. And, because it dives to about three feet it let me bring it back hard as it was digging into the bottom. That created lots and lots of noise and commotion. I wanted to get their attention. That did it.
The DT Flat has been discontinued by Rapala, I think anyway. Have no fear, however. They are for sale all over the Internet.
All my crankbaits were fished on the same tackle. My rod was a 7 foot, 3 inch medium action Abu Garcia Ike Delay Series Casting Rod. It's made for exactly this kind of fishing and for lighter weight crankbaits.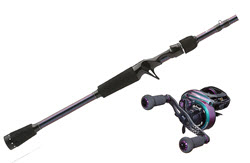 My reel was an Abu Garcia REVO IKE Casting Reel. I went with a 6.6:1 gear ratio because I wanted some speed but not too much. That gear ratio also gave me the power I needed to handle big fish. I spooled up with 10-pound-test Berkley Trilene 100% Fluorocarbon, although every now and then I'd give 12-pound-test a try.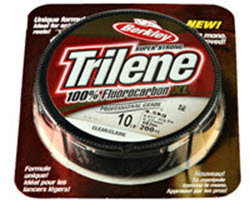 I've spent all this time and an entire blog on these lures for a reason. There are times when specific baits work and others don't. The 2019 GEICO Bassmaster Classic presented by DICK'S Sporting Goods was one of those times.
Next time we'll talk about the After Party (wow!) and then in Part 4 we'll talk about The Ike Foundation.
____________________________________________________________________________
Like Ike on Facebook,  and follow him on Instagram
for fishing and fun content.
Subscribe to Mike's YouTube channel, Going Ike,  to ensure you
see every adventure video.
Return to Mike Iaconelli's website