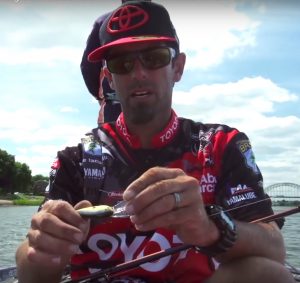 Every so often I think about a lure that everyone who want's to catch a bass should know about, and so it is with the David Fritts designed Rapala DT Thug.
It's a small balsa crankbait — 2-1/2 inches long with a weight of 3/8 of an ounce — that'll dive to between 4 and 8 feet on a normal retrieve. It has a hard, wide wobble, is hand tuned and comes in 15 colors. I don't care where you live or where you fish you can match the local forage with one of them.
What really makes it special, though, is that its bill drops down at almost a 45 degree angle. That means it dives straight down to its running depth with just a few turns of your reel handle.

It's absolutely perfect for river fishing or for short, targeted casts around cover like laydowns, pads, shallow rocks or shoreline riprap and stumps. Instead of going over their heads on its way down like a lot of crankbaits would do this baby goes right to where they're holding.
As perfect as it is, however, I do make one modification to my Thug before I fish with it. I upsize the belly hook from the No. 6 that comes on it to a VMC Short Shank Round Bend 1X No. 5. The bigger hook gives me better hooksets and, because the bill protects the hook, I don't have problems with snags even in thick, nasty cover.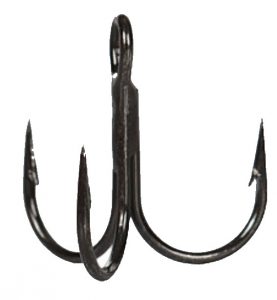 My rod choice is a composite from Abu Garcia. It's a 6 foot, 6 inch Ike Series Delay with a medium-heavy action. The shorter length gives me the accuracy I need for short, precise casts and it has enough backbone to pull the big ones away from cover when that's necessary.
I use an Abu Garcia REVO Premier Generation 3 Casting Reel, 6.4:1 gear ratio spooled with Berkley Trilene 100% Fluorocarbon line, 12-15-pound-test.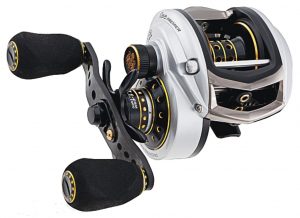 Grab a couple of Thugs the next time you're tackle shopping and give them a try. They get down quickly to where the bass are when they're shallow.
_______________________________________
Do you know about Ike's Celebrity Pro-Am Tournament, July 8
on the Delaware River, off of the Camden Harbor? 
Sign-up with one or two buddies and you'll receive a free invitation to attend the Benefit Dinner with all the Professional Anglers the night before:  Ike, Pete Gluszek, Joe Sancho, Chris Zaldain , Trait Zaldain, Charley Hartley, Ed Cowan, Cliff Crochet, Greg DiPalma, Stephen Kennedy, Terry Baksay, Darrell Ocomica, Bryan Schmitt, Grae Buck, Trent Cole, Host of Blitz TV, and Jon Ritchie, of SportsRadio 94WIP many others.
__________________________________
Hear Mike explain the D T Thug in his own words here:
___________________________________
Like Ike on Facebook,  and follow him on Instagram and Twitter to see weekly Vlog for Going Ike episode, along with fishing and fun content.
Subscribe to Mike's YouTube channel, Going Ike,  to ensure you see every video.
Return to Mike Iaconelli's website videos.