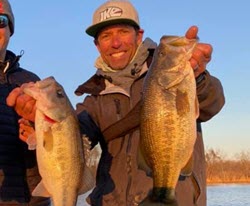 I know we don't think much about spinnerbaits at this time of the year, but they do sometimes work when there's a long warming spell and the bass become more active. And, it won't be long before spring comes along in much of our country so it won't be long before a spinnerbait is one of our go-to lures.
As good as they are, spinnerbaits have a problem. When you tie monofilament or fluorocarbon line to an open loop in front of the bait the line sometimes slips down the wire and fouls everything up. Your bait runs crooked, on its side or the blades don't turn. In my world that's called a worthless cast, and a worthless cast means no bass.
But, there's an easy, quick fix for that problem. Here it is…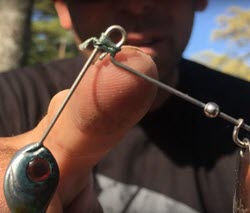 Take a short piece of heavy braid and wrap it four times around the open loop tie, just behind where you'll be tying your mono or your fluoro. That open loop is sometimes called an R bend. Make sure you wrap the braid around both the top and the bottom of the bend. The kink in the wire that goes back to the blades will help keep everything in place.
Once that's done tie a palomar knot around, and over, both pieces of wire. Cinch it down tight and trim the ends. When you're done you'll have an open loop in the front of your spinnerbait with a braid stop just behind it. That'll keep your line going back to you.

As far as what products I use or will recommend for this trick, I want you to use Berkley Fireline Fused Original Superline, Berkley 5X Braided Line, or Berkley 9X Braided Line. It really doesn't make any difference because they're all good. And, don't worry about color. It's totally unimportant, although I usually use something green or dark.
My spinnerbaits are Molix models. They have several — The FS, Lover Titanium, Mike Iaconelli Lover Triple Willow, Venator and the Water Slash — and they're all first-class spinnerbaits that'll catch numbers as well as size.

Give this little trick a try the next time you throw a spinnerbait. It'll save you several casts during the day as well as a lot of frustration, and that's a good thing.
---
Like Ike on Facebook, and follow him on Instagram for fishing and fun content.
Subscribe to Mike's YouTube channel, Going Ike, to ensure you see every adventure video.
Return to Mike Iaconelli's website