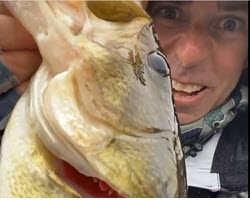 This is one technique I never wanted to give up to anyone, but you fellow bass-heads make all of this possible, so it's only right that I let you in on one of my most effective cold water techniques. That is the Rapala Shallow Shad Rap. It's the perfect crankbait for cold water conditions. It has a tight wiggle and no rattle.
I do, however, modify it a little bit.
First off, by cold water I mean anything from the middle 50-degree range on down. And, by little modifications I mean swapping out hooks and adding a split ring or a clip to the line tie in front.

The idea is to make this bait suspend. It has the perfect shape and size for cold water, but it can be made better by making it suspend. All you need to do to make that happen is upsize the hooks one size so that my lure holds steady and horizontal. I use VMC Hybrid Trebles. I like them because they have a little more bite than the standard hooks.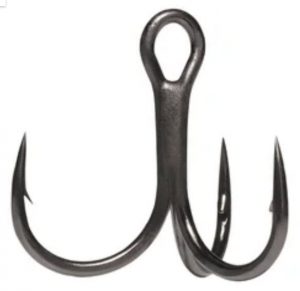 If you want to make it sink a little when it's sitting still, use a VMC 7547 Hybrid Treble Hook on the belly hook. It'll still hold horizontal but it'll sink a little. If I want my Shallow Shad Rap to float up a little, but still hold horizontal, I'll use a VMC X-Rap Tail Treble Hook. But, I put this one on the back of the bait.
If you're fishing with the really big sizes, SSR09 and bigger, you can make them suspend with Storm SuspenStrips or SuspenDots. Lead wire on the shank of the belly hook will work, too.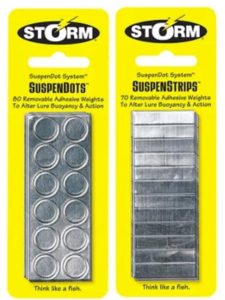 The only other thing I do is add a VMC Crankbait Snap or a VMC Line Tie Split Ring to the line tie. This adds a little weight to the bait and it gives it a little more movement.
This lure comes in all kinds of colors but I like natural looking lures for cold water. Hues like Bluegill, Crawdad, Ike's Demon, Shad and Silver are some of my favorites.
This is a balsa bait so it's fished on spinning tackle. I like a long rod with some tip. My choice is an Abu Garcia IKE finesse Series Spinning Rod. The 7-foot, 4-inch medium-light action model is perfect.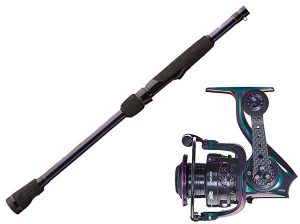 My reel is a 20 or 30 size Abu Garcia REVO IKE Spinning Reel. I spool it with 8- or 10-pound-test Berkley 5X Braided Line and attach a 4-or 5-foot Berkley Trilene 100% Fluorocarbon leader to it. Six or 8-pound-test is about right.
If you're fishing the bigger sizes, you can go with casting tackle, but I hardly ever do that. Spinning tackle works just fine for me.
This is a shallow bait. It only dives to somewhere between 2 and 5 feet, at the most. But don't let that fool you. It will pull bass up from shallow water and from deep water. It's like a jerkbait in that regard.
The easiest way to fish a Shallow Shad Rap is to make a cast, crank it 5 or 10 times as soon as it hits the water and then bring it back real slow with an occasional twitch and a pause. Don't do too much. A little twitch goes a long ways.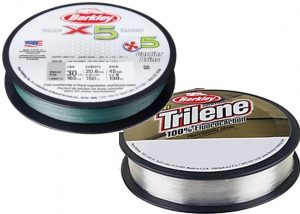 You can also fish one like a traditional jerkbait. That's nothing more than making a few turns of the reel handle when it first hits the water and then bringing it back with a couple of short twitches and pauses. Change the cadence until you find what they want.
The final thing I want to discuss is what I call the Scrubbing Technique. It makes the fish rise up to the bait like nothing else. Make a few cranks as soon as the bait hits the water. Then, wiggle your rod as you pull it sideways, up at maybe a 30-degree angle from the water. In between the pulls give it a short pause.
Don't let anyone tell you that bass won't hit a shallow bait when the water's cold. I'm here to tell you that they will, and that they do.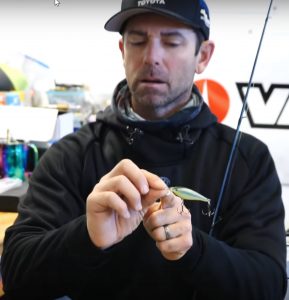 _____________________________________________________________________________________________
Like Ike on Facebook, and follow him on Instagram for fishing and fun content.
Subscribe to Mike's YouTube channel, Going Ike, to ensure you see every adventure video.
Return to Mike Iaconelli's website