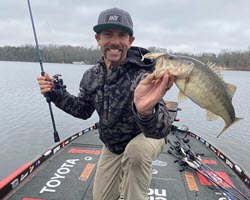 From some time in the late fall through the early prespawn, a blade bait is one of the most effective lures you can throw. There isn't much to them, just a chunk of metal and a couple of hooks. But don't let that fool you. They do get the attention of the bass.
My first introduction to them was back when I was a kid. We all had a Silver Buddy or two that we fished with, sometimes from shore but sometimes from a small boat. Back in those days we called it metal fishing.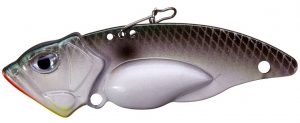 A Silver Buddy was a simple lure—one hole in the back, all silver when they first came out, and a couple of treble hooks. The hooks were sharp, though. I'll give Buddy Banks and Billy Westmoreland that, and I'll give them credit for developing a dynamite fishing lure. Over time though, blade baits evolved into what I think is now the best one made—the Molix Trago Vib Blade Bait.
We'll start with the design of the body. It has a realistic-looking head with eyes that look right through you. It's freaky how real they look. And, its body looks like a baitfish with a big, fat belly. It's made in more than a dozen colors. One of them will match any baitfish that's out there swimming around.

Each of those colors is put on one of four different weights and sizes. They range from 3/16-ounce to 3/4-ounce. The body size ranges from 1.5 inches all the way up to 2.5 inches.
Last, but not least for sure, they're armed with double-prong frog hooks and along the back, there are three holes so you can change the way it works with little or no effort.
So, here's the deal: The most important thing to start with when you select a blade bait is to match the hatch. And, that's not all about size. You also need to match the color of the local baitfish. Matching the hatch properly is a combination of both.

As a general rule I fish mostly with the 3/8-ounce and the 1/2-ounce sizes. They're usually about the right size for most applications. My most used colors are silver, gold, chartreuse and red. The silver works real well in clear water. The gold is good for stained water and chartreuse is good when the water gets real nasty. Red is a great spring, prespawn color. I suggest you carry silver and gold at a minimum.
Like I said just a minute ago the Trago Vib comes with double prong hooks. They're attached by slipping the shaft of the hook through the bait—the two shafts are split. They aren't attached together like with most hooks. You can add a feathered hook or one with a small blade on the back if you want. I'll explain more about that next time.
The last thing I want to talk about is that the Trago Vib also has three holes on the top of its back. The middle hole will give you the best all-around action. The forward hole will tighten up the vibration and give you more flash. The back hole will give you a harder, wider vibration—more thump. When and where to use each hole will be covered in detail next time.
OK, that is the overview of blade baits in particular and of the Molix Trago Vib Blade Bait in particular. There really isn't all that much to them but don't let that fool you. They are some of the most effective cold water baits you can own.
Next time we're going to talk about tackle and techniques for successful blade bait fishing.
______________________________________________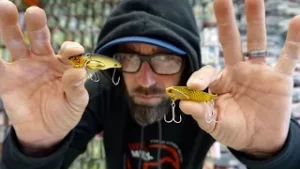 Like Ike on Facebook, and follow him on Instagram and TikTok for fishing and fun content.
Subscribe to Mike's YouTube channel, to ensure you see every adventure video. (Download the YouTube app on your phone and the videos will come to you automatically.)
Return to Mike Iaconelli's website