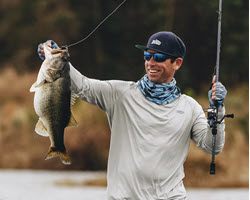 I worked with professional bull rider, Keyshawn Whitehorse, in the episode this week. It was interesting and might have been the most difficult physical activity I've ever tried. Staying on a bull is not for the weak or the timid.
Keyshawn is currently ranked fourth in the country and 11th in the world. He's a man of faith and a man who hasn't forgotten his Navajo roots. He is someone we should all admire before we even consider his professional accomplishments.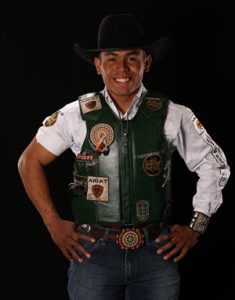 He describes riding a bull as a dance. He points out that they're bigger, stronger and faster than we are so you have to go with them. You can't overpower or control them.
I got a little practice on a barrel they use for warmups and training at the Downtown Rodeo in South Jersey. They've been holding professional rodeos since 1929.  That didn't seem too hard so I sat on a real bull. He looked mean to me. His name was Fred. I punked-out in the chute where Fred was confined when it came time to turn him loose.
My reason excuse was that I still have tournaments so I couldn't risk getting hurt. Instead we went to a bar called the PBR PHILLY@XFINITY Live! in Philly where I rode a mechanical bull. The first two times I got bucked off pretty quick. The third time I kind of got into the rhythm of it and lasted a little longer, but that's not the same as staying on it.
Riding bulls is a tough business. I can't tell you how much I admire Keyshawn Whitehorse. All I did was play around with the sport and I was sore and had two big bruises on my legs the next morning.
Now let's talk about the fishing. Our challenge was to catch one keeper largemouth and one keeper smallmouth as a team. We also had to each catch a lake trout.
We fished a place called Merrill Creek Reservoir in North New Jersey. It's clear and it's deep. This was no ordinary challenge. But, Keyshawn is an experienced angler. He grew up fishing for trout so I thought we had a chance. Merrill Creek is small, less than 700 acres. I thought that would help.
As we were setting up and getting ready to launch I noticed pods of baitfish right near the ramp. That's always good because no matter what species you're after predators won't be too far from dinner. As soon as we launched we started fishing.
Lake trout feed on herring. And, they're pelagic in this body of water so they basically just chase and hang around baitfish. They roam rather than relate to structure or cover. Our bait was a 4-inch Berkley Powerbait Maxscent Flat Nose Minnow on a 3/8-ounce VMC Neon Moon Eye jig head.  It's basically an aspirin head.

I selected a Black Brown Flat Nose Minnow because it looks just like the real thing. The tail fins are vertical, not horizontal so it's anatomically correct. My color choice was Brown Black which makes it look like real herring.
Not 10 minutes into our fishing one grabbed my bait. It was a little over 2 pounds, decent but not a giant. Most important, though, I had my lake trout checked off.
The bait started to disperse so we decided to go see about a largemouth. We fished a grass flat with a deep weed edge. It was in 18-20 feet of water. We caught a giant pickerel, lost a giant pickerel and then Keyshawn caught a solid 4 pound largemouth. We checked that one off our team list.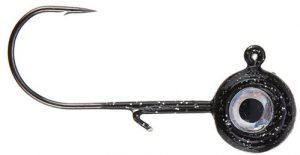 Our bait was a Ned Rig. We used a bright chartreuse 3/16-ounce VMC Ned Head. That color head is a secret among Ned rig anglers. In clear water the fish can see it from a mile away. That's a real advantage. That VMC head is good on the bottom, too. It lets the rig glide along without hanging up.
However, the plastic was the real key. We used a 2.75-inch Berkley Powerbait Maxscent Lil' General Worm. Our color was Gobyashi. It has an olive green back with a light colored belly. That is a perfect imitation of a herring picking along the bottom.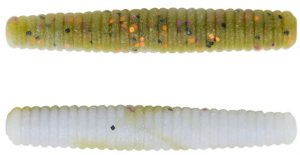 After that, we moved down near the dam to fish some riprap. Smallmouth always like riprap. We fished a drop shot and a Ned rig with no success. After a while we decided to go back to where we started and see if Keyshawn could catch his lake trout. He did in short order jigging a 3/4-ounce tail spinner with a white body and a silver blade. They're old-fashioned, but they still catch fish. 
We then decided to make one last attempt for our smallmouth. With just a few minutes to spare I caught a small one on the same Ned rig we'd been using. It was tough but we did catch all three species, and we both caught our lake trout. The day was a huge success.
We used the same rod, reel and line for everything. Our rods were Abu Garcia IKE Finesse Series Spinning Rods in the 7-foot, 4-inch length with a medium light action. That rod has a lot of soft tip which makes it perfect for open hook jig baits.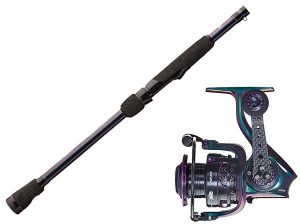 Our reels were Abu Garcia REVO IKE models in the 30 size. The main line was 10-pound-test Berkley X9 Braided Line in white. We fished a long leader — remember the clear water — using 6-pound-test Berkley Trilene 100 % Fluorocarbon Line.
Overall, this was a fun two days. I'm going to try to do something with Keyshawn again in the future.