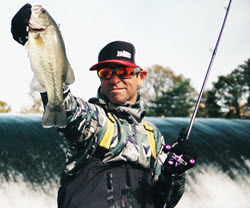 Last Monday My World aired with the show where I went fishing and bowling with PBA Players Championship winner, Kyle Troup. That title earned him prestige in his sport and $250,000. Bowling has come a ways since I bowled as a teenager drinking cheap, warm beer and eating cold pizza. I'll tell you that.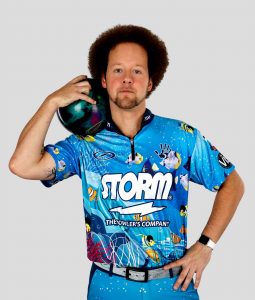 Anyway, we started off the first day at the Jersey Shore fishing for four species of fish — a flounder/fluke, a striped bass, a tautog and a sheepshead. We launched from Bay Front Marina in North Wildwood, New Jersey. We call it the Jersey Shore.
Conditions were tough. There was a major storm on the way, actually it was a hurricane. The winds were howling so bad that it was hard to stay in the boat. The tide was coming in faster than expected and the current was strong. Add to that the fact that the water was getting dirty.
We fished as a team for 6 hours. Despite the conditions we caught all four species. I caught two and Kyle caught two. I'll tell you more about how we did that in a minute. Right now, though, I want to talk about our bowling.
We bowled at Island Bowl in Wildwood, New Jersey. At first he said he wanted me to roll a few balls to see what my technique and style looked like. I knew, and Kyle soon discovered, that I have no technique, much less a style.
Kyle is a two-handed shovel-type bowler. There are only eight professional bowlers who do it that way. He said he thought I could do the same with a little instruction. He took me to the pro shop. They found a ball that suited me, drilled it to meet my finger size and we were off to the races. It didn't take long for me to get the hang of it. Actually, I thought I was pretty good.
Towards the end of the day we bowled one game against each other. He spotted me 100 pins. I still lost. So much for "thought I was pretty good." I did get to keep the ball, though. I think I'll put it near my fishing trophies. I had that much fun.
It's always been interesting to me that to be the best at anything you have to dedicate your total being to it. That's what he does. He said he bowls 40 or 50 games a week, and that doesn't count practice.
One of the most impressive things I noticed about him is how his ball travels down the lane. It goes in a giant arc. You're sure it's going into the gutter. It never does. It curves back towards the pins and runs right into them. It sounds like a bomb going off when it hits them.
Now let's talk about how we caught our fish. We started off fishing for the two toughest species in our group, the tautog and the sheepshead. They like cover so we went to the bridge pilings at Grassy Sound.
We fished with live crabs. We rigged them on a specialty jig head. That combination worked perfectly. We caught both species fairly fast.
At that point we headed out to get our flounder/fluke and our striper along the marshy banks.
My favorite flounder rig is a 1/2 or 3/4-ounce bucktail jig with a Gulp! grub up above it. Because the water was dirty I picked a white and chartreuse jig and I used the same color up on top. I rig it like a drop shot with my hook and grub about 16 inches above the jig.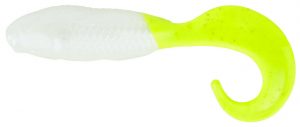 My bait for the flounder/fluke was a Berkley Gulp! Swimming Mullet Grub in the 4-inch size. I use Gulp! exclusively when I'm fishing saltwater because of its smell and taste. I rig it on a 1/0 or 2/0 hook. And I always rig my grub with the hook point up and the tail down. That gives the tail more action.
Because of the weather and water conditions we drifted channels around the marshy places. The bucktail kept the rig down and the grub looked like something a flounder or striper would want to eat.

After we caught our flounder/fluke we switched baits. We went with a 4-inch, Berkley Powerbait Hollow Belly Swimbait in Gizzard Shad. I selected that color because it looks like just about anything that swims in saltwater.
Our rods were 7-foot, Abu Garcia IKE Signature Series Spinning Rods, medium action, with an Abu Garcia REVO IKE Series Spinning Reel, 30 size. I spooled our reels with 15-pound-test Berkley X9 Braided Line for a main line and attached a leader made from 12-pound-test Berkley Trilene 100% Fluorocarbon.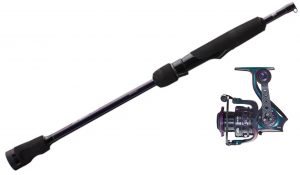 I caught a flounder and Kyle caught a striper.
We met our fishing challenge under really tough conditions. I'm proud of that and I'm proud of how Kyle handled his end of things. I wish I bowled as good as he fished.