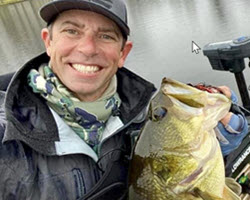 This is really a continuation of my thoughts about fishing the moment. It's about where the fish are on any given day or any given hour, and how to find them.
In most waters that we fish, there's hard cover and soft cover. Hard cover is stuff like docks, laydowns, rock, and concrete. In the video I want you to watch along with this blog — you can view it here — the bass were on laydowns. Soft cover is stuff like weeds and other kinds of vegetation. I fished that off and on but the bass weren't relating to it.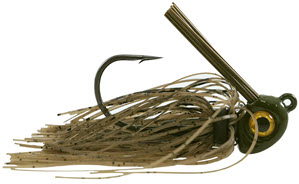 Early in the day I fished a Missile Jigs Ike's Mini Swim Jig. I used a Berkley Powerbait Grass Pig Swimbait for a trailer but I cut the front half off so that it matched the jig a little better size-wise, and that was with the 3.5-inch size. The 5-inch size would have been really too big. You don't want your trailers to overpower the jig.
Full disclosure: I actually bit the front half off and spit it out but I didn't want to say that in public — looks bad on me.  

So anyway, I started fishing around a bridge that crossed a busy road along the lake. I did that because bridges almost always hold fish. They funnel water so there'll be current and there's usually shallow water around them with ditches and holes. They're good all year long. 
The deal here was that "almost always" didn't include the day I was fishing. I didn't even get a nibble so I moved along.
This is a great time to talk about moving when you're fishing the moment before I get into the hard cover, soft cover thing. I always move when I'm looking for fish and trying to figure out what they're doing. Slowing down doesn't get it. If you make a few casts to a spot and you don't get a bite, it's time to go somewhere else.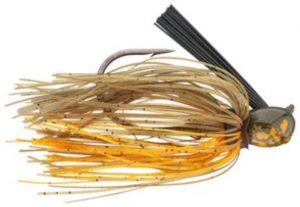 Moving is an important concept that a lot of anglers miss. They keep fishing a place too long because they think it looks fishy. Well, it might look fishy to a human but if the fish aren't there you can assume it doesn't look fishy to them. MOVE!
I try to follow my own advice so when I didn't catch anything at the bridge I moved. I alternated between fishing hard cover — wood in this case — and soft cover. I didn't get a bite on the soft stuff but the wood started to produce almost immediately.
My bait was a Missile Jigs Ike's Mini Flip Flipping Jig. I added a 3-inch Berkley Powerbait Chigger Craw to it for a trailer. My colors were black-and-blue.

Here's the deal: When the water's cold like it was the day I was fishing I downsize by bait. That means something from Missile that I helped design with John Crews. Then I fish a bridge if one's around. After that, I move to hard and soft cover. I alternate that until I find where the fish are located, and I never stop moving until I find them.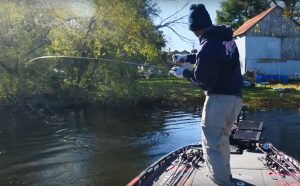 Like Ike on Facebook, and follow him on Instagram for fishing and fun content.
Subscribe to Mike's YouTube channel, to ensure you see every adventure video. (Download the YouTube app on your phone and the videos will come to you automatically.)
Return to Mike Iaconelli's website