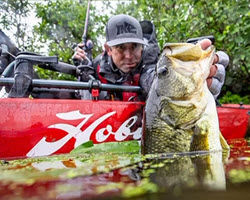 I know it's the middle of December and that means winter in much of the country. Nevertheless, the bass might not know that. They might be in their fall feeding patterns, especially where it stays relatively warm through the winter. And, if they are, one of the best ways to catch them is with a soft jerkbait.
Here's how I modify and rig my soft jerkbaits in the fall for maximum effect…
It's important to start with the right soft jerkbait. For me that is a Berkley Powerbait Jerk Shad. Size is simply a matter of matching the hatch. If it looks about right to you, it'll look that way to the fish. After you pick the right size you'll need to pick the right color. For me there are only two colors right now — white pearl and disco violet.

I use white pearl when it's dark or when the water's stained. It's solid so it shows up real well under those conditions. I use disco violet when it's bright and sunny or when the water is clear or just slightly stained. I do that because it has a translucent look to it. This is a little different from what's said about color selection with other lures, but believe me when I say this is the way to pick soft jerkbait colors in the fall.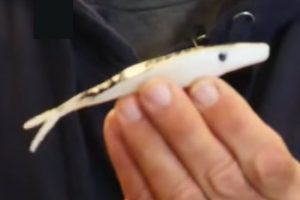 Now it's time to modify them. I make a black back on them and I add a shad dot on both sides about an inch back from the nose. I use a Spike It Braided Line Marker to do that. It's great when you want to blacken your braid but it's also great when you want to modify plastics.
So, let's put together our rig. When we're done we'll have a jerkbait that's Texsposed with a stinger hook behind it on a short fluorocarbon leader with a big barrel swivel between our leader and our main line.
Here goes…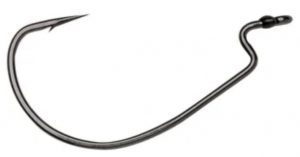 We'll start with a standard Texas rig on the jerkbait but we'll Texspose the hook just a little bit so we get a better hookset. I want a big, heavy duty EWG hook for this. The idea is to add weight so our bait goes deep. My choice is a VMC Ike Approved Heavy Duty Wide Gap Hook. One thing that's really important is that you keep the body of the Jerk Shad perfectly straight on the hook. Make sure you do that. A kink or bend will hurt the number of bites you get. It looks unnatural.
The other thing about weight is that you need to use a big barrel swivel, maybe a Size 6. That helps with getting the bait down as well as with line twist.  And, it's important that it's silver. The idea, besides the added weight and eliminating line twist, is that when everything is put together it makes a setup that looks like the jerkbait is chasing something smaller.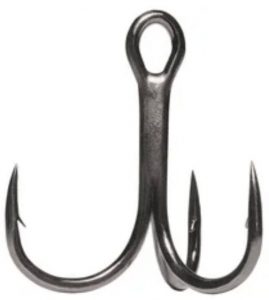 My leader is short, maybe 12 inches but never any longer than 14 inches. We want the bass to see the swivel and the jerkbait at the same time. I always use fluorocarbon line because it's dense. That helps get and keep the jerkbait down.
Depending on the cover conditions I'm fishing and the size of the bass I expect to catch, I'll use anything between 8 and 20-pound-test. My usual choice is between 10 and 15-pound-test. And, the only line I'll use is Berkley Trilene 100% Fluorocarbon.
Short strikes can be a problem in the fall, especially when the water's clear or when the fish are pressured so I usually add a stinger hook. I use a VMC 7547 Hybrid Treble Hook. A Size 6, 5 or  4 is usually about right.
All I do is back my Texsposed hook out of the plastic and add the treble to it with one of the points up and in line with the Texsposed hook when I reinsert it. Insert the bottom facing points into the body of the bait. You can keep the stinger hook in place with a simple keeper of some sort. This is exactly like adding a trailer hook to a spinnerbait, no difference. Again, make sure your bait is straight when you're done.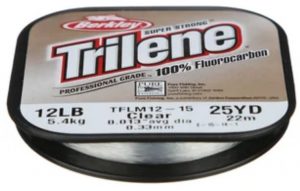 Fish this rig just like you would fish a hard jerkbait. Twitch it faster when the water's warmer and slower when the water's colder. And, make sure to let the Jerk Shad fall whenever you can. It has a killer shimmy that'll drive bass wild.
One last thing: I have a great video that explains all of this. You can link to it here. Watch it. You'll be glad you did.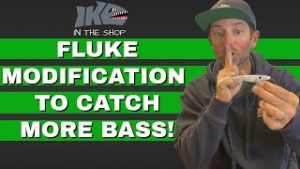 Like Ike on Facebook, and follow him on Instagram for fishing and fun content.
Subscribe to Mike's YouTube channel, to ensure you see every adventure video. (Download the YouTube app on your phone and the videos will come to you automatically.)
Return to Mike Iaconelli's website