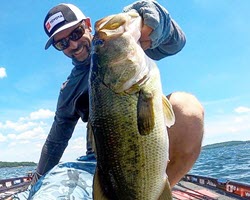 For a while now I've wanted to do something different with a spinnerbait. The challenge is that almost everything that can be done with one has been done. But, then it happened! I thought about making a short arm bait, a kind of comeback from times past, but with a new and modern design.
When our research was finished the Molix Lover Short Arm Spinnerbait was born. It'll debut at ICAST this year and it'll be available to everyone shortly after that.
We all know what a short-arm spinnerbait looks like, right? It's a spinnerbait with the upper wire connecting the blade to the bait shorter than the lower wire. But, that's where the similarity ends with the Lover Short Arm Spinnerbait. Here is why: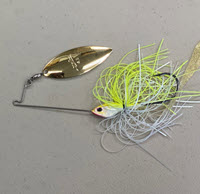 The arm comes up at 90 degrees behind the head and then bends back, very short. That makes the back of the blade stay in front of the hook point. There'll be no more problems with your hookset. You know, the blade getting between the hook point and the fish, even if she strikes at the blade.
The blade's special design — it's a high-tech willow leaf — creates a combination of strong flash and heavy vibration because of the way it's made and because it runs right along the lower wire. I've fished this bait, a lot. It has more vibration than any other one I've ever tied on my line.
The head has a unique flat bottom. That design gives it a slight rock as it comes through the water. It's not made with lead or tungsten, either. It's a zinc alloy so it's environmentally friendly and the perfect size for its weight.
The skirt is super supple silicone with a couple of long strands coming off the back. This gives it a built-in trailer.
It comes in three weights — 3/8-ounce, 1/2-ounce, 3/4-ounce — and in eight colors plus several Ike Custom Ink ones.

Molix Short Arm Spinnerbait
This is the perfect spinnerbait for nighttime fishing or under low light conditions. And, there isn't anything better for when the water is stained or dirty.
You can fish it with your regular spinnerbait rod, reel and line. Work it like you would any spinnerbait but remember it has a short arm so don't forget to let it helicopter down from time to time. And, make sure you tie one on when you want something similar to a vibrating jig, but with a slightly different look and feel.
The Molix Lover Short Arm Spinnerbait will catch 'em. I guarantee it!
_____________________________________________________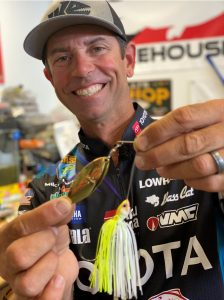 ___________________________________________________________________________________
Like Ike on Facebook, and follow him on Instagram for fishing and fun content.
Subscribe to Mike's YouTube channel, to ensure you see every adventure video.
Return to Mike Iaconelli's website