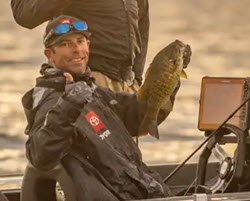 No matter where in the country you live, at some point during the spring the bass are going to be on the beds. Spawning bass can be really challenging to catch and I know that frustrates some of you, but I've got a system and technique that works just about everywhere. It drives them nuts. They've got to have it. I'm telling you, if you think that you suck at sight fishing, this is one bait you've got to try.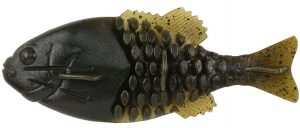 There's already been a lot of chatter about this lure, the soft plastic Berkley Gilly, a dead-on imitation of a yearling bluegill. Those fish are called "nest raiders" for a reason – they love to feast on bass eggs – and that makes them an enemy of the bass. It comes in three sizes: 90, 110 and 130, and whether I'm using spinning or baitcasting gear I like the little 90 during the spawn.
That's one of the great things about this rig: You can fish it on a variety of tackle. When the bite is tough, or fishing pressure is heavy, and especially if I'm looking at bass in open water, that's when I like spinning gear. If the water is a little stained, or there's no pressure, and especially if there's a lot of cover, that's when I go to the heavier baitcasting tackle.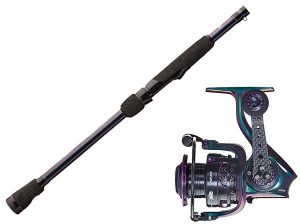 First, let me describe my spinning setup: I use a 7- to 7½-foot Abu Garcia spinning rod and a 30-size Revo Ike spinning reel. I start off with a main line of 10- to 15-pound X9 Braid, to which I add a short leader of 10- to 12-pound test Berkley Trilene 100% Fluorocarbon. Here's where things get technical. I want to nose-hook the bait – that means putting the point through the chin and running it out of the nose – so I use a #1 or 1/0 VMC Wacky Hook, which has a lot of gap. Rigged on a very short down leader and a 1/16 to 3/16 ounce weight, it keeps an anatomically-correct pose in open water.
When I need baitcasting gear, again I'm using a 7- to 7½-foot Abu Garcia casting rod, but this time a medium heavy, paired with a Revo MGXTREME reel, a super-fast 8:1 model. That helps me to catch up to a fish that hauls butt leaving the bed with my lure. I fill it with 15- to 20-pound test straight fluorocarbon. It's the same bait, the same rig, but here's where things get a little different. This time, instead of nose-hooking the lure, I'm going to Texas Rig it. That means I switch out my hook for a 2/0 VMC Ringed Extra Wide Gap model The hook point lies flush against the bait, but when that fish bites it pops right out.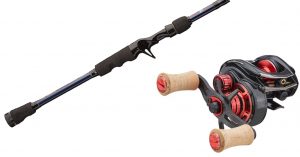 You can fish these lures straight out of the package, but if you want to maximize your efficiency, I've got a few hacks that you're going to love. The first is to add a little bit of RED to the lure. Not the whole lure, just a touch on the chin or the belly. That creates a focal point for the bass to attack. Spike It makes dyes and sprays for this purpose, but my favorite way to do it is with their Fire Red marking pen. You can color smaller areas and it's not messy.
Hack number two is adding some sound. There's a hollow spot in the back of the bait perfect for adding what is called a tube rattle There are several different varieties available from places like Tackle Warehouse Wet it, stick it in, and now you'll aggravate the bass even more.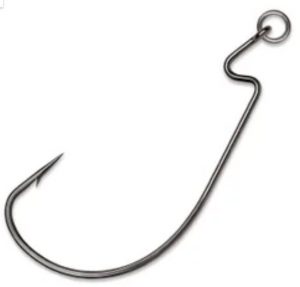 I'm sure you want to know how to fish it, but let me give you one more hack before we get to the juice. Sometimes the bass want the lure in their faces. With a little trickery, we can make the Gilly float, almost suspend. Remember that hole I just talked about? Take a packing peanut – you probably have thousands of them – they're very moldable and you can shove one right in the same hole where you put the rattle. It'll help that bait suspend.
Now onto the juice. Remember, those little nest raiders are the sworn enemy of the bass. If the fish aren't aggressive, you want to taunt them until they bite. Cast your lure past the bed, drag it in, and then with your rod at 1 or 2 o'clock, shake it and pause it, shake it and pause it. Spinning, baitcasting, it doesn't matter, as long as you keep the weight in place the lure is the only thing moving.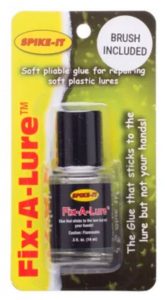 I'll admit, I'm not the best sight fisherman out there, but this bait has made me much better at it. Everything about it is deadly! If you're having trouble with bed fish, try out the Gilly. It will make those fish bite.

__________________________________________________________________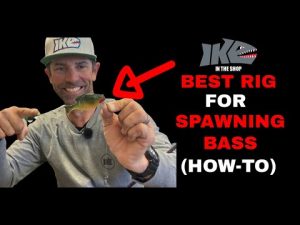 Like Ike on Facebook, and follow him on Instagram and TikTok for fishing and fun content.
Subscribe to Mike's YouTube channel, to ensure you see every adventure video. (Download the YouTube app on your phone and the videos will come to you automatically.)
Return to Mike Iaconelli's website