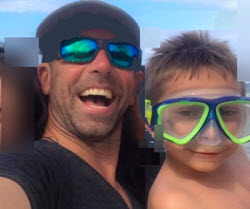 This is a proud time around the Iaconelli house. Vegas will be an official tournament angler in less than a week, and he's only eight-years-old. Better yet, he'll be fishing out of my first boat. It's a Coleman Crawdad.
I have to tell the truth, though. It was getting a little worn after 30 plus years of service. And so I did the only thing a true bass angler could do — I redid it top to bottom and now it's his boat.
We started by cleaning it from stem to stern. Hot soapy water and lots of elbow grease. That's no small task when you realize how much crud can accumulate over three decades of use. I had no idea…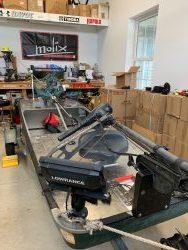 Once we got it cleaned up we were able to see what needed to be done. The deck and seats were our first priority. As you can see from the photos they were replaced with good materials and good workmanship. After that it was time to upgrade with most of the features you'd find on a new, high-end bass boat.
We installed two new Minn Kota trolling motors, one in the front and another on the back. Then we added Lowrance electronics and built a fully operational livewell system. Realizing that there's always a shallow bite we put a Power-Pole on the back, too.
We redid the trailer, as well. Everything's basically new — paint, bunks, tires, wiring and lights.
This thing is a bad dude. There's no other Crawdad like it in the whole world.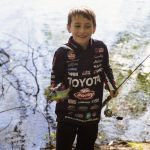 So anyway, he's going to fish a B.A.S.S. Youth Tournament through the New Jersey B.A.S.S. Nation this weekend on Assunpink Lake here in New Jersey. It's only about an hour away from our house so everything will work out nicely.
B.A.S.S. Nation youth tournaments are a really good deal. They're important to our sport. They give the kids an opportunity to fish tournaments against their peers but under the strict supervision of an adult. It's a fun event that's safe and that teaches them sportsmanship and manners on the water as well as good character in general.
This one is what they call a paper tournament. They measure the bass they catch, send a picture in to prove it and then determine placings. That's a nice format for the kids, but I have to admit that I was hoping he'd be able to use the new livewell we installed.
Oh well, it was Robert Burns who pointed out that, "The best laid schemes of mice and men go often askew." I guess he was right.
Becky's going to be his boat captain. I'm telling you the little fellow is a stud. She's going to back him in at the ramp and then he'll handle his boat from there — with Becky supervising, of course.
______________________________________________________________________________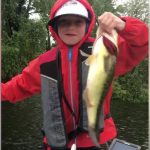 If you want to fish well, you must practice! Click to watch Vegas practice.
______________________________________________________________________________
Like Ike on Facebook,  and follow him on Instagram for fishing and fun content.
Subscribe to Mike's YouTube channel, Going Ike,  to ensure you see every adventure video.
Return to Mike Iaconelli's website
___________________________________________