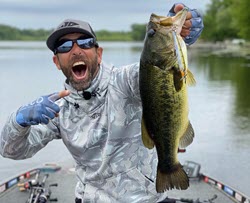 Most of you know something about the chicken rig. Traditionally, the chicken rig was a weedless way to Neko rig a straight tail worm. I'm in love with doing that but I've expanded the concept to include one of the most effective and natural looking bass baits on the planet — the craw.
We'll start with the hook. My favorite, by far, is the VMC Finesse Neko hook. The thing I really like about it is that there are two pieces of heavy fluorocarbon line on the top of the shaft of the hook up towards the eye. That keeps the bait straight on the hook which is important if you want to make everything look natural. I rig with a No. 1 or No. 2 size hook. They're perfect for a 3-inch or 4-inch craw.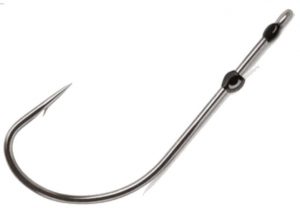 The next thing we have to do is pick a craw. There are so many good ones out there that they can't all be mentioned. Almost every company that makes plastics makes a craw. My favorite, though, is the Berkley Powerbait Chigger Craw. Pick the size and color that matches the hatch. They come in 3 inch and 4 inch lengths and a ton of different colors. Make sure you break the claws apart before you fish with one.
Now we're going to rig this bait in such a way that it stays in a natural defensive position. That's basically backwards with its tail down and its claws up, just like the real thing.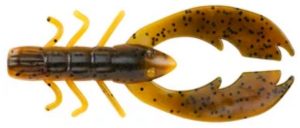 When we start our Texas rig we don't start on the fat end like we normally would. We start through the nose of the bait in between the claws. This keeps the butt down and the claws up. And, I always rig it so that the flat side of my craw is down. When you're done inserting the hook your line should be coming out of the nose of the craw.
There's one more thing we need before we start fishing, though. That is a VMC Half Moon Wacky Weight. I like that style best because it has a button on the end. That keeps the butt down and it'll make a ticking sound as I wiggle, shake and move my craw. Use the lightest weight you can get away with using. But, in truth the weight of your nail isn't all that important. Use whatever you want.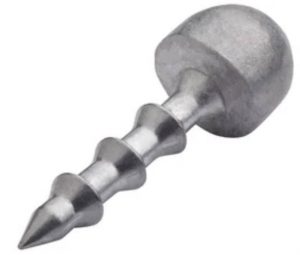 Make sure you leave some of the nail exposed, regardless of what brand of nail you use. If you bury the nail inside the plastic, it won't tick on the bottom. That'll cost you bites, for sure.
I do one other thing, too. I glue the weight in place. The best glue I've found for this is made by Spike It. It's called Fix-A-Lure. It comes with a brush so there's no mess — you don't glue your fingers together — and it holds better than most.
You can fish your chicken rigged craw on light action casting tackle if you want. But for me, I like spinning tackle. The craw handles better and I get better hooksets when I use it.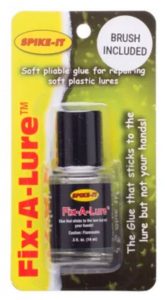 My rod is between 7-foot and 7-foot, 6-inches long with a medium action. My choice is always an Abu Garcia Ike Finesse Series Spinning rod. They perform perfectly for this style of fishing.
I rig it with a 30 size REVO IKE Spinning reel and I spool up with 15-pound-test Berkley X9 Braided Line. I like the Crystal color because I can see it better. I go with a Berkley Trilene 100% Fluorocarbon leader somewhere between 6 and 10-pound-test.
Fishing the chicken rigged craw is simple. Make a cast. Watch your line carefully because about 30 to 40 percent of your bites will come on the fall. If it reaches the bottom, shake and wiggle it in place as you slowly move it along. Pull it so that the claws are up and the butt is down. That's the natural defensive position of a crawfish.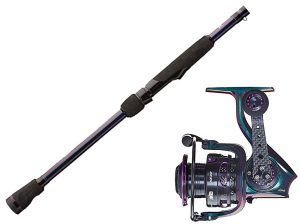 When you get a bite, set the hook. With the VMC Finesse Neko Hook you'll have about 99.8 percent of them successful. That hook just doesn't let go once it's in the fish's mouth. It's the real deal. I'm not interested in fishing with anything else.
Don't get stuck in always fishing the way you always have. Go with something new and innovative — the chicken rigged craw. You'll be glad you did.
_______________________________________________________________
Hear Mike explain this great bait!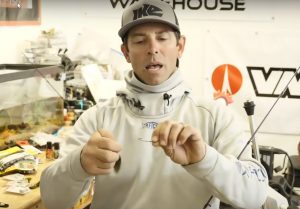 ___________________________________________________________________________________
Like Ike on Facebook, and follow him on Instagram for fishing and fun content.
Subscribe to Mike's YouTube channel, Going Ike, to ensure you see every adventure video.
Return to Mike Iaconelli's website