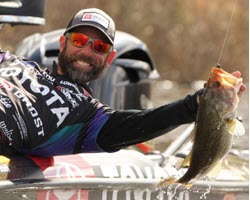 When I think about spring bass I think about bass that are in transition. They're moving from winter areas into shallow, spawning areas and then back out again to where they'll spend the summer. So, the first thing you need to do is find them. After that you need to catch them.
I have two basic ways to do those things. Both involve a Tokyo rig, although in very different ways than what you normally hear about.
We'll find them first.
You probably don't think of a Tokyo rig as a search rig. It's been touted as a great heavy cover, punching type of thing. But in fact it can be a great search tool if you rig it correctly and if you fish it correctly.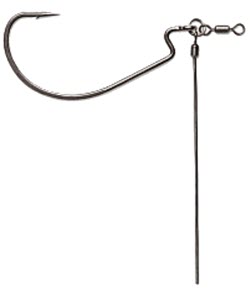 I'll not get into all the details of what makes a Tokyo rig because I think everyone knows what it's all about. If you don't know what they are, go to TackleWarehouse.com and check them out. Basically they're a hook on a ring and a swivel with a wire that drops down and holds your bait up, off the bottom. It's kind of like a drop shot except that there's no flexibility between the bait and the weight, and it's much heavier duty.
Both have their place but for springtime fishing the Tokyo rig works better than the drop shot rig, at least for me.
Most of the time with a Tokyo rig you'll use a worm-style weight and you'll put the point down. You want it to penetrate whatever's on the bottom or between the surface of the water and the bottom. When you're making a Tokyo rig search bait, however, you want the point of the weight up, towards the bait. You don't want it to dig into the bottom.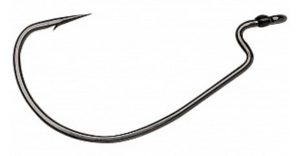 What you want is something that'll get your bait down but that'll let the weight stay on top of the bottom. The deal for that is usually a 3/8-ounce or a 1/2-ounce tungsten weight. That's perfect for dragging it along creating subtle noises and maybe kicking up a little something off the bottom. That's the way real creatures act which is exactly what you want.
My favorite rig is a simple VMC Tokyo Rig. It's designed to be complete right out of the package except for the fact that it doesn't come with a weight. The components are top-shelf and everything is put together professionally. I designed it myself and picked out the components myself. It's what I fish with in the Bassmaster Elite Series. You can't go wrong fishing with it.

I use the one that comes with a VMC 2/0 EWG hook. I attach a boot tail swimbait to it. My favorite is a Berkley Powerbait Power Swimmer Swimbait. My favorite size is the 3.8 inch version. I thread it on my hook with a simple Texas rig and I always match the hatch when it comes to size and color.
All I do with this rig is make long casts and then drag it along slowly on the bottom until I find the bass and get a bite. It's a perfect setup when you're searching for springtime bass.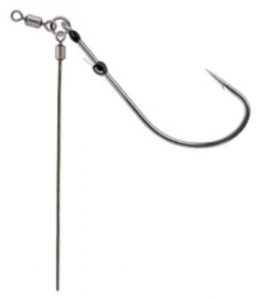 Now that we've found them let's catch them.
Once I find them, and the bite slows down on my search rig, I switch to the VMC Tokyo Rig Finesse Neko Rig. I usually go with the one with a No. 1 Neko hook and I use a straight tail worm with it. My choice here is either a Berkley Powerbait Bottom Hopper or a Berkley Powerbait Flute Worm. Again, I always try to match the hatch wherever I'm fishing when it comes to size and color.
I'm targeting specific places and specific groups of fish so my weight is lighter—usually between 3/16 ounce and 5/16 ounce works the best—and I attach it in the traditional way, with the point down. That helps keep it in place when it hits the bottom where I want to fish it in and out or up and down. The idea is to put it right in front of their nose.

Either one of these rigs can be effectively fished on a light action casting rod or a medium action spinning rod. They work equally well so go with what you like the best.
This deal with two different versions of the Tokyo rig is one of the simplest ways to find and catch spring bass. Give it a try this year. You won't be disappointed.

_____________________________________________________________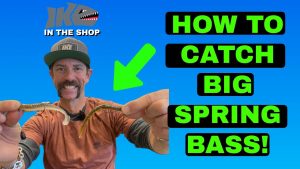 _____________________________________________________________________________
Like Ike on Facebook, and follow him on Instagram and TikTok for fishing and fun content.
Subscribe to Mike's YouTube channel, to ensure you see every adventure video. (Download the YouTube app on your phone and the videos will come to you automatically.)
Return to Mike Iaconelli's website