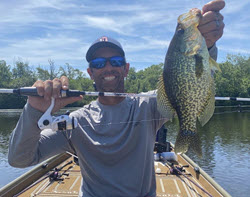 In a recent column I described the five categories of jigs that you need to be an effective bass angler, so now I'm going to build on that and refine my descriptions – because if you have the right jig but the wrong size or the wrong color, you won't be as effective as possible.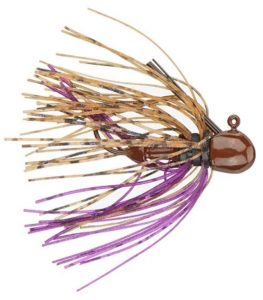 Let's go from the smallest to the biggest, which means the first one is the micro jig, those super-small, itsy-bitsy tiny offerings that came from the Japanese market. I use them in anything from a 1/16 to a 3/16-ounce size. Why pick it? Well, forage size is the first consideration. If there's lots of small bait around – whether they're crawfish or baitfish or darters – this is your go-to. Water clarity is the second consideration. The cleaner the water, the more inclined I am to go micro. If there's 2-4 feet of visibility, and in some places it could be as much as 10 or 20 feet, lean toward the smaller end of the spectrum. These little jigs are especially useful when the bite is tough. It could be because of fishing pressure or a cold front, but when they seem to have lockjaw, a snack can be better than a meal. Finally, consider the species that you're fishing for. Micro jigs are a smallmouth killer.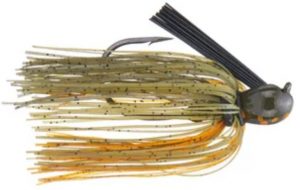 Going up the ladder, the next jig in the lineup is the compact jig. It's defined by a thinner, shorter skirt. Maybe it has a smaller head diameter, too. The whole package is smaller than a full-sized jig. Some of the reasoning for using it is the same as with the micro jig – you pull it out when the forage is small, but not necessarily tiny. It shines in clear to stained water, but perhaps not the ultra-clear water. When a full-sized jig isn't getting strikes, this is what you should bring out. Because of the compact design, it's particularly good at getting in and out of cover, particularly wood cover, so that's an advantage, too.
The full-sized jig is probably the most versatile of the five. I can do anything with it: dead sticking, dragging, casting, pitching and swimming. You want to use these jigs where the forage is big, places where you have large minnows and the crawfish look like lobsters. They excel when the water is stained to muddy and you want a little bit more action and commotion. When fishing is good, I don't want to go little. I want to give them a big meal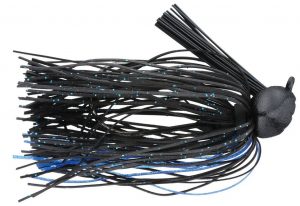 Next in line is the football jig. The number one consideration in choosing this variety is the cover you'll be around. It is a killer in rock. It doesn't always have to be big rock. It could be gravel or pebbles or riprap. It maintains contact, especially in deeper water, and does not get hung up. Whereas the other jigs work well in three or four different seasons, the football jig is the best when the water temperature is at the extremes, either the heat of summer or the chill of winter. Both times, fish often are very deep.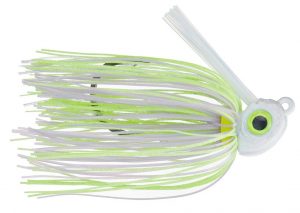 My final jig is the swim jig, which has a slender, streamlined head for getting through vegetation. The most important thing about this one is the line tie. It has to be in line with the hook. Whereas many of the other jigs are made to be fished on the bottom, this one is at its best when the bass are suspended, which happens a lot. You can use it around a lot of different ­­­cover, but there's nothing better than soft, green cover. Any kind of vegetation is great – pads, hydrilla, milfoil, elodea, you name it. It gets in and out clean.
I get asked a lot about the size and color of my jigs. Let's start with color, because that's easy. The number one thing you want to consider when choosing a color is matching the hatch. Your color should match what they're eating. If they're feeding on bluegills or perch, go with natural shades like green pumpkin and watermelon. With a swim jig, where you're often imitating baitfish like shad and alewives, white, chartreuse and pearl blue are common choices. Black and blue is great because it represents a molting crawfish. They're vulnerable and susceptible to being eaten.
The second consideration is water clarity. The clearer the water, the more likely I am to stick with light and natural tones. In stained and dirty water, I add color or contrast. Combined, you only really need to carry four to six basic patterns.
Finally, what weight should your jig be? Weight is just a tool to get a jig to do what you want and trigger a bite. As a general rule, deeper water demands a heavier jig. I've caught fish as deep as 40 feet on a 1-ounce jig. Depth alone is not the whole deal, though. Sometimes the rate of fall triggers a strike – if they want it faster, go heavier, even in shallow water, and if the bass demand a slow fall, lighten up a bit.
I hope that this was a helpful primer. Jig fishing seems complicated, but it's really quite simple, and by understanding what your jig is meant to replicate and how it should look in the water, you take a lot of the guesswork out of one of bass fishing's best overall techniques.
_____________________________________________________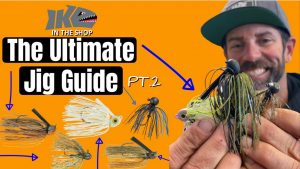 Like Ike on Facebook, and follow him on Instagram and TikTok for fishing and fun content.
Subscribe to Mike's YouTube channel, to ensure you see every adventure video. (Download the YouTube app on your phone and the videos will come to you automatically.)
Return to Mike Iaconelli's website