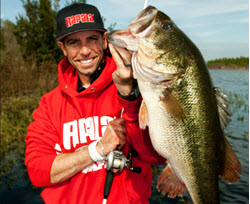 A bait that's really started to shine over the past few years is the squarebill crankbait. Their shine is well deserved, too. They catch bass in heavy cover when they're shallow, and there are always a few good ones shallow regardless of the season or the weather. Squarebills will create a true reaction bite and often catch bass when other lures won't. My favorite is a Rapala Balsa Xtreme BX Brat Squarebill. It's made from balsa, and that's a good thing. It floats high and has that unique vibration that only balsa can produce. But because it's covered with a thin layer of copolymer it isn't subject to the damage that balsa is famous — infamous — for when it hits something.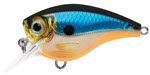 The 03 model will run about 3 feet deep. The 06 model will run about 6 feet deep. Both models are 2 inches long and weigh 3/8-ounce. Naturally they're offered in every color you can imagine, and some that you can't.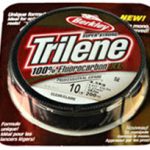 The running depth of this lure can be adjusted with line selection. If you want to make them run a little deeper than advertised, try
Berkley Trilene 100% Fluorocarbon
.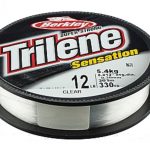 If you want them to run a little shallower than advertised, try
Berkley Trilene Sensation Professional Grade monofilament
. They're both super good with a BX Brat. Because I'm in tight when I'm fishing a squarebill I like a short rod with plenty of flex but at the same time it has to have enough backbone to horse a giant out of heavy cover. My choice is an
Abu Garcia Ike Delay Casting Rod
in the 6 foot, 4 inch model with a medium action. If you're really, really tall, you might prefer the 6 foot, 8 inch length but be careful about getting too much length on your rod. This is up close and personal fishing.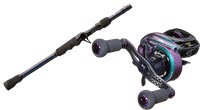 I use an
Abu Garcia REVO Ike Casting Reel
with a 6.6:1 gear ratio for squarebill fishing. You don't need to crank these baits all that fast. It's about placement and presentation, not speed. The real thing about this crankbait, though, is how you fish it. You should be making relatively short casts with pinpoint accuracy. And, you should make it an article of faith to bounce your Rapala BX Brat off of anything that's in the water. And when I say anything, that's exactly what I mean. The best way to get a reaction bite is to make noise and change direction. The best way to do that is to hit something.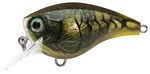 Another thing that's important when you are squarebill fishing is color. I always try to match the hatch. A reaction bite is just that — quick and mindless. Make it look as natural as possible. A squarebill crankbait can be a lifesaver when nothing else seems to be working. Give one a try this summer and fall. You'll be amazed at what's under cover that shoreline cover. ____________________________________________________________________________ Like Ike on
Facebook
, and follow him on
Instagram
for fishing and fun content. Subscribe to Mike's YouTube channel,
Going Ike
, to ensure you see every adventure video. Return to
Mike Iaconelli's website
Preview(opens in a new tab)