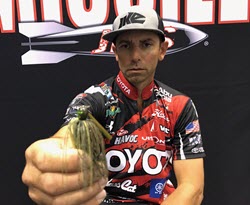 The weather is hot. The green cover in our lakes and rivers is growing like crazy. That's good for us. That's bad for the bass. It's a simple situation. We know where to find them when they're shallow — somewhere that's green.
I'm not going to talk about all the types of cover that's out there, only two types that grow — grass and trees.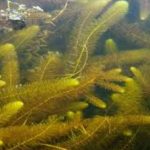 Before we get into that, however, I want to say something about deep and shallow. Right now a lot of the bass are out deep on main lake drops and channels, but a lot doesn't mean all. There are always shallow cover relating bass worth catching. In fact, I'll go so far as to say that some of the biggest ones I've caught have come out of shallow cover — less than 3 feet of water — in the dead of summer.
Probably the most obvious example of what I'm talking about is grass, milfoil and hydrilla mostly. The thicker it grows the better. The thing about grass right now is that it's growing like crazy. That means it's making oxygen and providing a hiding place for fry and baitfish. Bass like those things.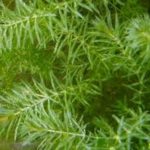 The easiest and most effective way to fish grass is to flip or pitch a jig into it. All you're worried about is the initial fall so don't worry about what to do once it hits the bottom. Just reel it in and toss it out again.
I like a jig for this kind of fishing. One of my favorites is the Missile Jigs – Ike's Mini Flip Flipping Jig. It comes in several weights up to 1/2 ounce and it has a great fall. On top of that it sports a fine cut skirt which gives it plenty of action.
Use any color you want. Most of your bites will be reaction bites. If you want to use a trailer, there are dozens of good ones made by Missile Baits and Berkley. If you like one, they'll like it.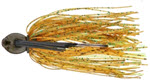 Another form of cover that you don't hear much about is overhanging trees along the shoreline. Some of them drop down all the way to the water. Others are up higher. However, they all have an entrance point somewhere.
The trick is to get a bait back under them, and that requires that you learn to skip a lure. That's not easy using a baitcasting rod and reel, but it's not as difficult as some anglers think. Set your spool so that there's little or no resistance and then educate your thumb. You'll backlash at first but before you know it you'll have the technique down flat.

You can skip darn near any lure but some are easier than others. One of my favorites is a worm, sometimes a floating version and sometimes not. I prefer Berkley plastics for this. The Powerbait Maxscent Flat Worm is a good choice and so is the Powerbait Maxscent The General Worm. The General is almost like a plastic stickbait so it works real well.
Another super choice for skipping is a plastic minnow-type lure. They'll all skip and they look like something a bass wants to eat. One of my favorite minnow-type plastics is the Berkley Gulp Alive Jerk Shad.

Fish where other anglers won't, or can't. You'll be rewarded for doing it.
__________________________________________________________
Like Ike on Facebook, and follow him on Instagram for fishing and fun content.
Subscribe to Mike's YouTube channel, Going Ike, to ensure you see every adventure video.
Return to Mike Iaconelli's website