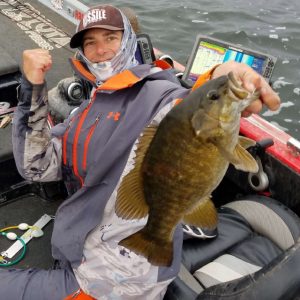 Going Ike! shot some film recently with Fletcher Shryock on the Upper Susquehanna River. It should be up right now. We were chasing smallmouth, and did we ever catch them. In just five hours we caught 110 bass. That is getting on them.

Our approach was pretty simple and straight forward. When we were casting into the current and bringing our lures back with it, we fished a homemade Ned rig. When we were casting with the current and bringing our lures back against it, we fished jerkbaits.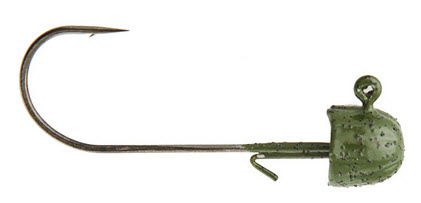 I made my Ned rigs with a VMC Finesse Half Moon Jig in either the 1/8 or 3/16-ounce weight. They come in several other weights but the bass that day seemed to like the two sizes I just mentioned. Black or green pumpkin made no difference.
My plastic was a Berkley Powerbait Maxscent The General Worm. It's basically a 5 inch stickbait. I bit off about an inch of the head to shorten it down. Natural, shad-like colors seemed to work best although black was pretty productive, too.

Fletcher used a similar setup only with different manufacturer's products.
All we did was let our offerings drop down to the bottom and then we bounced them back to the boat with the current. The trick to getting so many bites was to not work them too fast. Slow and easy was what this morning was all about.

My jerkbait was a Rapala Shadow Rap. This thing was perfect for what we were doing. It's 4 1/4 inches long and runs in the 2-4 foot range. (If it matters to you, it was a #11.) And, it's comes in at least 24 different colors. I caught most of my smallmouth on Ghost but almost any natural looking color would have caught just as many.
Fletcher used a similar jerkbait but from a different manufacturer.
We brought our jerkbaits back against the current real slow. The idea was to keep the lure in front of the fish for as long as possible. Sometimes, in places where the current was especially strong, we'd hold our lures in place and let the water create the action. That was a killer. The smallies went crazy when we did that.

I used the same rod and reel for both presentations. My rod was an Abu Garcia "Ike" Series Delay model, medium action. It has a soft enough action to handle smaller baits but it has enough backbone to handle a big fish in the current.
My reel was an Abu Garcia REVO with a low gear ratio. A high-speed reel would have been a problem because it would have encouraged me to retrieve my baits too fast which would have killed my bite.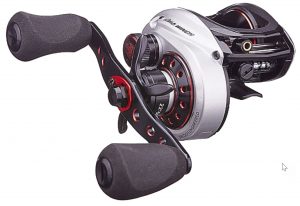 Don't overlook our rivers this year. They offer some of the best fishing around.
____________________________________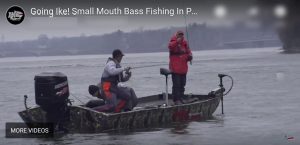 ____________________________________
Like Ike on Facebook,  and follow him on Instagram and Twitter to see weekly Vlog for Going Ike episode, along with fishing and fun content.
Subscribe to Mike's YouTube channel, Going Ike,  to ensure you see every adventure video.
Return to Mike Iaconelli's website