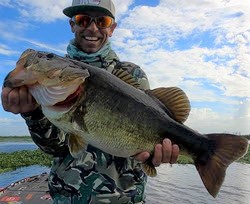 Here we go: This is the last of my three-part series on heavy metal baits for wintertime fishing. It's going to cover the venerable spoon. It's a lure that's been around for hundreds of years but it still catches bass.
We're not talking about just any spoon, though. It's winter. The water is cold. I'm talking specifically about a flutter spoon. It's the perfect imitation of a big dying baitfish.
The one I like the best — it's elongated, cupped and for the most part already tricked out — is the Molix Mike Iaconelli Lover Spoon. It comes in a 3-3/4 inch size that weighs 3/4-ounce and in a bigger size that's 4-1/4 inches long and weighs a full ounce. Those are the sizes you'll need regardless of where you're fishing.

The Lover Spoon comes in several colors but I'm going to give you a big surprise. Here goes… I match the hatch. That's usually silver or silver and white, and sometimes gold. When I'm fishing under really low light conditions I'll throw black (gunsmoke).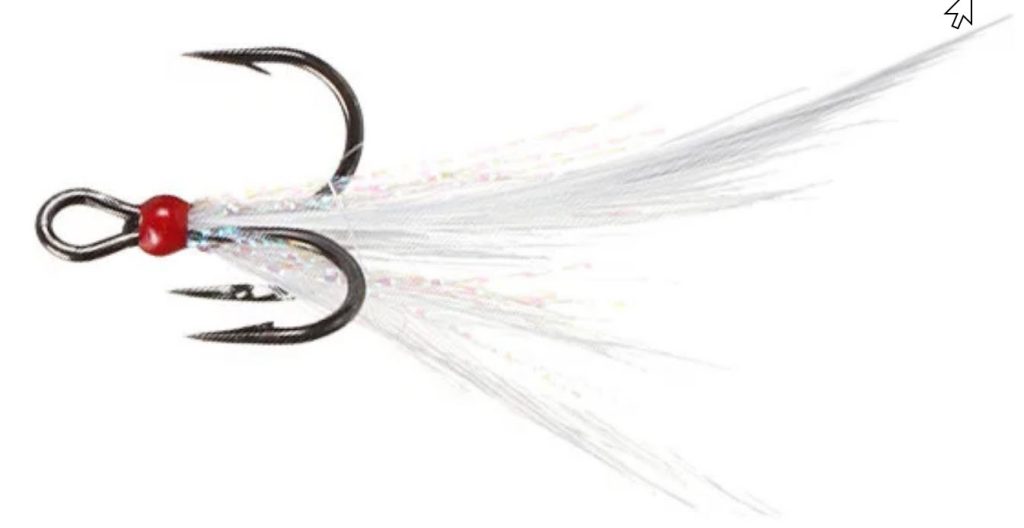 One of the problems with flutter spoons is that fish tend to headbutt them and you don't always get a good hookset. The Lover Spoon takes care of that by placing a double prong hook under the belly. It's held in place with a tiny magnet. There's just enough there to hold it in place when it's falling or lifting, or when you're casting it. But, when the fish hits it, it'll fall away, ready to do its job.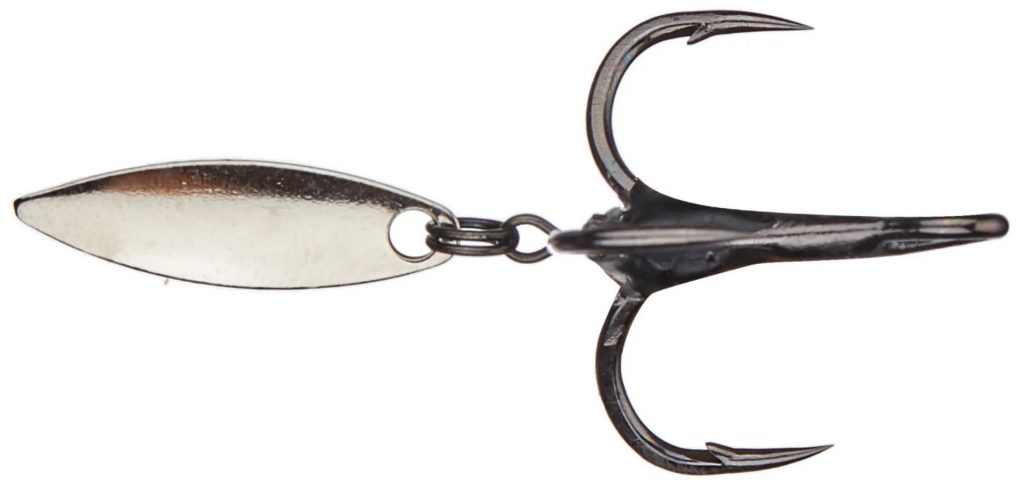 The action on this bait is unsurpassed by none. The cup design gives it a nice wobble on the fall or on the lift. The back is fluted and beveled. That gives it a nice rock and shake on the lift. And, if you want to slow everything down all you have to do is swap the factory hook for a feathered one. The VMC X-rap Tail Treble Hook works the best for me. Or, if you want to add a little flash go with a VMC Bladed Hybrid Treble Short 1X Hook.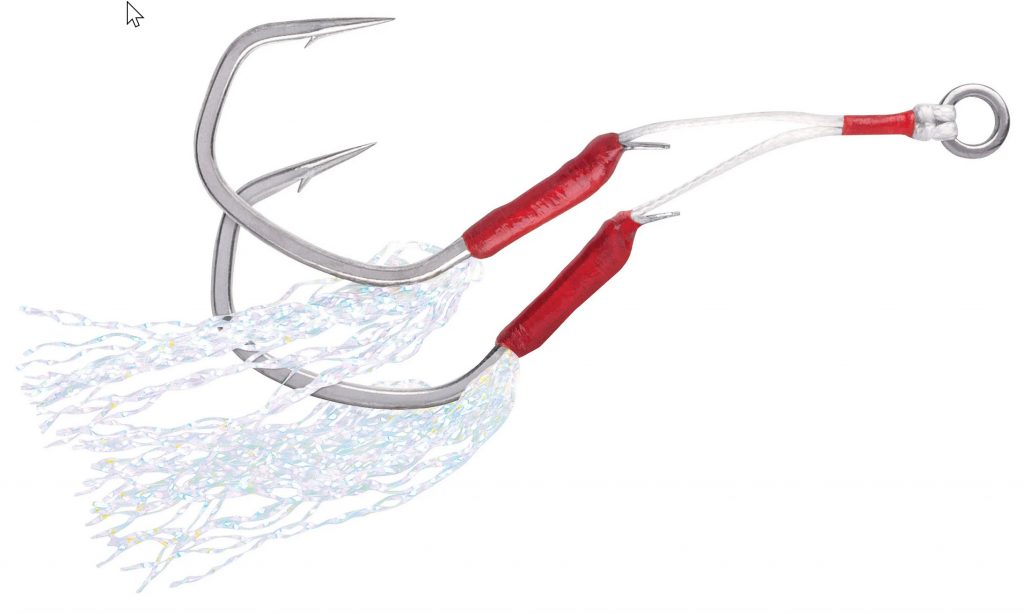 If you're in heavy cover and snagging is a problem, try swapping out with a VMC TechSet Tandem Assist Hook.
My rod and reel combinations are pretty much the same ones I use for blade baits and for tail spinners. I go with a 7-foot or a 7-foot, 4-inch model in a medium or medium-heavy action depending on how heavy a bait I'm throwing. The shorter length keeps me from moving the lure too far or too fast. That's important because we're talking here about winter fishing in cold water.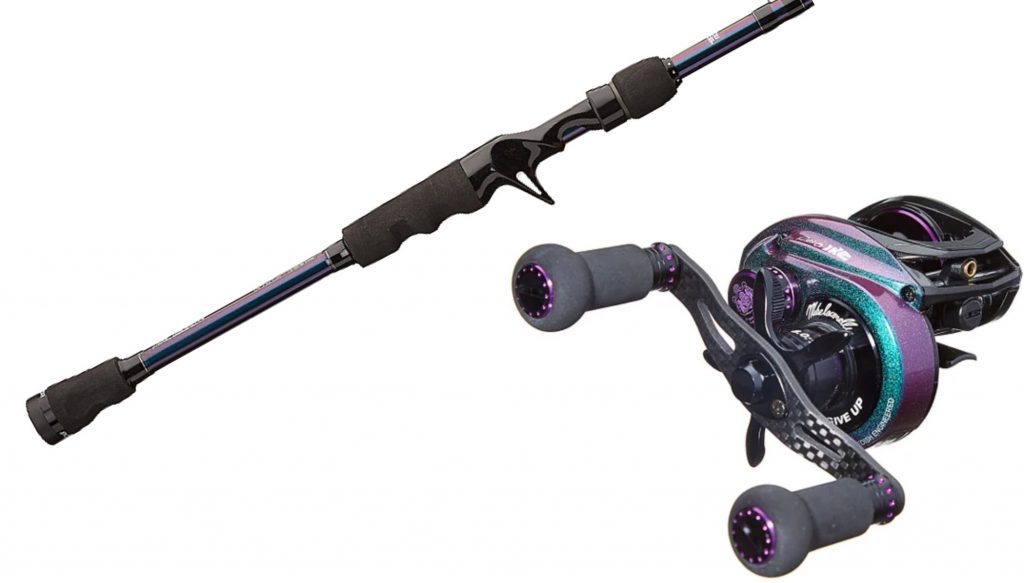 My usual choice is an Abu Garcia Ike Power Casting Rod, 7-foot with a medium-heavy action.
My reel choice is a higher speed Abu Garcia REVO MGX model. I want the higher gear ratio because a lot of the time the bite will happen with the fish moving straight at you. You need to pick up line quick when that happens. I spool my reel with fluorocarbon line 100 percent of the time. It gives the spoon the right action. My choice is anywhere between 12 and 20-pound-test Berkley Trilene 100% Fluorocarbon.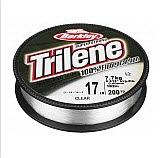 The most common way to fish a flutter spoon is to make a long cast and let it fall down, swinging side to side. After that, lift it up high and slow and then let it fall back down. Do this all the way back to the boat. If the water is less than 10 feet deep, bow to the bait as it falls. If it's deeper than that, put your thumb on the spool and pull the line off with your other hand as it falls.
The other way is with a combination of a slow roll and a hop. I let it drop all the way to the bottom and then start reeling — slowly. About every 10 turns of the reel handle I let the bait fall back down, and I bow to it as it falls. This technique is most effective when the bass are right on the bottom and holding tight.
The most important thing about either one of these techniques is to watch your line. Almost all of your bites will come on the fall. It's important to be ready, too. Winter spoon bites aren't necessarily vicious. You need to set the hook quick, and you can only do it if you see it the second it happens.
Winter bass may not eat as often as spring, summer and fall bass but that doesn't mean you can't catch a few. One of the great ways to do that is with a Molix Mike Iaconelli Lover Spoon. Give one a try before spring arrives.
___________________________________________________________________________
Watch Mike's video on fishing a spoon: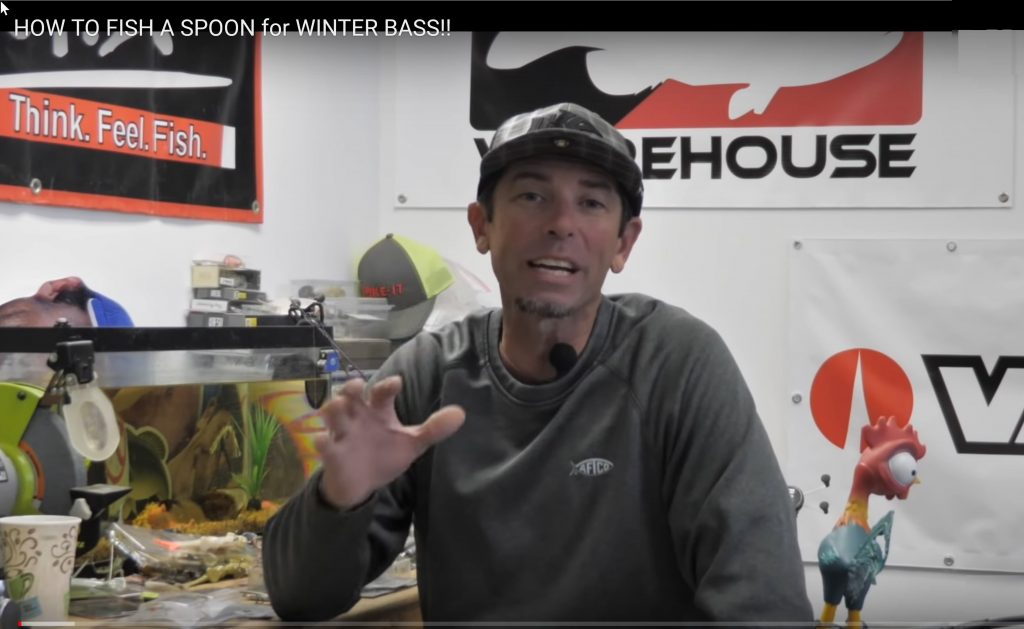 ___________________________________________________________________________
Like Ike on Facebook, and follow him on Instagram for fishing and fun content.
Subscribe to Mike's YouTube channel, Going Ike, to ensure you see every adventure video.
Return to Mike Iaconelli's website