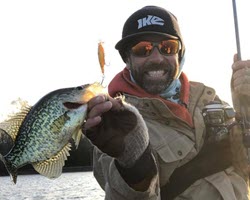 It's getting late into the winter. Depending on where you live spring is right around the corner, or it's still weeks away. Regardless of that, something has happened to everything that lives in the water. Their colors are getting dull, almost like they've been bleached. And that has a serious effect of how the bass relate to our lures.
If we want to catch our share, or more than our share, we need to fish with dull colors. I have six favorites — three hard bait colors, three soft plastic colors — that have worked for me over the years. Here they are…
Hard baits

These colors are from my Rapala Ike's Custom Ink DT Series Crankbaits. Years ago I set my lures out in the weather for weeks at a time to get the colors dull, the way I like them. But now, in partnership with Rapala, I have been able to create them right out of the package in our DT Series.
The first one is Ike's Disco Shad. It's basically a washed out shad color. It's dull white with a little gray or purple on the back. It also has a muted chartreuse on the belly. That's important because that's what happens to a baitfish's belly in the winter.

The next color — for when they're feeding on the bottom — is called Ike's Mule. It's a dulled out crawfish pattern with light brown on the back, an almost chalk-like finish on the sides and a little bit of orange on the belly.
The last hard bait color I want to talk about is Ike's Smash. This one is for when the forage has some natural color to it, like a bluegill or a perch. It's a

kind of green-brown on the back that fades into a green-chartreuse on the sides. And, it has just a touch of light orange with it. It's the perfect imitation of bluegill or perch in the late winter when their colors start to fade.
Soft plastics
The theory here is the same. Don't change the way you're thinking.

One of my most favorite colors is actually the absence of color — black. The Berkley Powerbait Water Bug is a great example of what I'm talking about. It's black. There's no metal flake or anything else in it. All the fish sees is a black silhouette that contrasts with everything else. There's a complete absence of detail when they look at it. Black is good in clear water, stained water and even muddy water.

Another good one is green pumpkin. Everybody knows about this color. It's probably the most popular there is among bass anglers. An excellent example of what I'm talking about is the Berkley Powerbait Flute Worm in the 4.7 inch size. Its green pumpkin has a little black flake in it so it's a good combination of two of my favorite colors. Green pumpkin is at its best in clear to stained water.

My last choice is for clear to ultra-clear water. We see a lot of that in the late winter. This one is watermelon. Now, when you first look at it you'll think there isn't much difference between it and green pumpkin. But you'd be wrong! Watermelon has more of a translucent look to it. A good example of watermelon is in the Berkley Powerbait Maxscent The General Worm.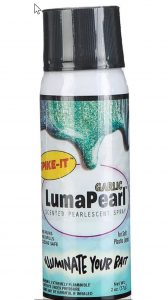 If you have a number of other type lures you don't want to throw away, you can dull them down with fine sandpaper or you can spray your baits with Spike It LumaPearl Spray to cut down the intensity of the colors. The great thing about LumaPearl Spray is that it isn't permanent. You can wash it off when spring arrives.
When you're out fishing during the winter, avoid bright, flashy colors. They might look good to you but they'll look unnatural to a bass.
____________________________________________________________________________
Hear Mike talk about The Top Colors for Winter Fishing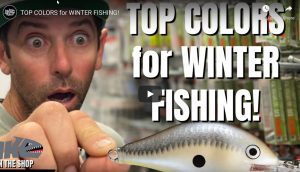 _____________________________________________________________________________
Like Ike on Facebook, and follow him on Instagram for fishing and fun content.
Subscribe to Mike's YouTube channel, Going Ike, to ensure you see every adventure video.
Return to Mike Iaconelli's website