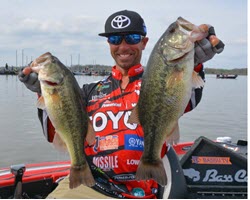 Last time we talked about soft plastic jerkbaits because they look like baitfish. This time I want to talk about a Rapala Shallow Shad Rap for the same reason — everything's shallow and something that looks like a minnow will catch them.
But that doesn't mean they jump in the boat. Let's face it. Fall fishing can get tough. When that happens I switch my presentations to something a little different. In my world that means I downsize my lures and make absolutely sure they're the same size as the forage. I'll talk a little more about that in just a minute.
So, with that out of the way let's get back to the Shallow Shad Rap…

First off, I want to say something about the lip on this great lure. It's kind of like a shovel. It comes straight down, off the nose and then bends straight out at a 90 degree angle. That gives it a super, lifelike action that no other lure can duplicate.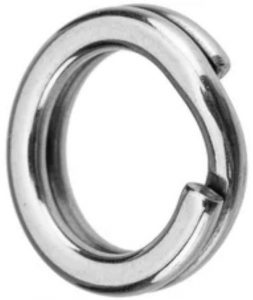 You can make this bait a little better, though, with a split ring or a clip on the nose. That gives it just a little more wiggle on the twitch which helps when the water is still warm. I use VMC Stainless Steel Split Rings or their Crankbait Snaps. Either one will do a good job.
After that I make a couple of other changes. I want slightly bigger hooks. They give the bait more weight and they help it come close to suspending when it stops. That's important because it gives the fish time to look over everything before it strikes.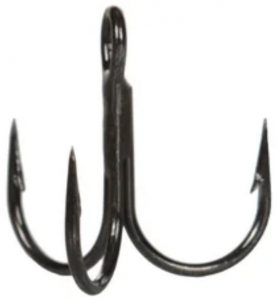 Once I've done that I make changes to the hooks. I replace the front hook with a #4 VMC Short Shank Round Bend 1X Treble Hook or with a #4 VMC Hybrid Short 1X Treble Hook. The hybrid model will sometimes give the bait a little more balance. I swap out the back hook with the same hook except that I go with a #5 back there.
I make long casts way past my target with a spinning rod and I use 6 or 8-pound-test Berkley Trilene 100% Fluorocarbon line. I twitch this bait back with long pauses.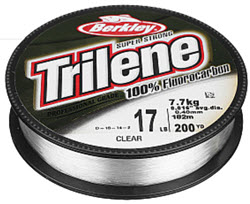 Now, here's the thing I wanted to say about size before. Most of the forage will be between 1 and 2 inches long, almost never more than 2 1/2 inches. That calls for a small bait so I go with a No. 5 size lure. It's 2 inches long. Under these conditions I go with natural looking colors. If I had to pick just a couple, I'd say shad or silver.
But, there's an exception to everything in fishing. Every so often you'll run into a scenario where there are thousands of slightly bigger minnows all stacked up in the back of a cut, hollow or creek. The bass in those places become hypnotized to what's going on around them. When that happens it's impossible to match the hatch. I don't even try.
What I do is upsize my Shallow Shad Rap to a No. 6 or a No. 7. They're 2 3/4 inches long and 3 1/2 inches long respectively. I modify them exactly like I did my smaller lures but I go with the craziest, gaudy and sometimes just plain ugly colors I have with me. I don't want something that looks like the real thing. I want something that stands out from the crowd.
Give one of these Shallow Shad Raps a shot this fall. You won't regret it.