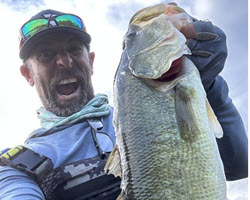 As kayak fishing continues to grow in popularity, the ability to customize your kayak grows in lockstep. There's not just one way to do it. Depending on what you carry and where you fish, you might have a setup that's uniquely perfect for you. To give you some ideas, let's go through how I rig my Hobie PA 14.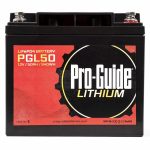 Let's start with the battery power. This is no simple craft and it needs lots of juice during the day. Fortunately with a single Pro Guide PGL50 lithium battery, I can take care of all of my power needs. It's super-light, so I can keep it up in the front hatch in a battery box where it stays dry. I rig it up with some male/female connectors to make removing it a snap.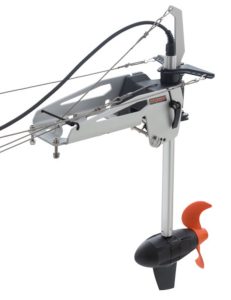 Now let's move to the back of the boat, where the power plant lies. I use a Torqueedo Ultralight. Some tournaments allow it, some don't, but even if they don't, I'll still use it when I'm practicing or fun fishing. I have it mounted on an Innovative Sportsman Mount which keeps it stable, and then I have a throttle beside me and control the direction that it's going with my feet. I can go ¾ throttle all day and never run out of battery power. There's even an indicator next to the throttle that tells me speed and battery life remaining.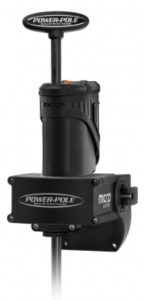 Another must-have is my Power Pole Micro Spike. I can't imagine living without it and I always want it to be accessible, so I keep a remote around my neck and an up/down switch under the throttle. It's hard wired to my Pro Guide Lithium battery for simplicity and reliability.
Right in front of those critical items, I have a tall flag, which is a necessity on public waters, as well as a light that makes me visible in low light conditions. I bolster that with TH Marine kayak lights inside and out – the ones inside of the Hobie are white to help me see what I'm doing. The ones on the outside are red, which matches the kayak and also makes me highly visible.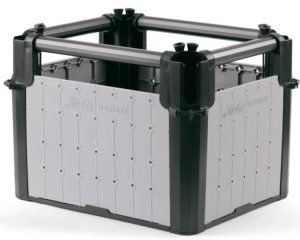 Behind the seat is a Hobie H-Crate to which I've added a series of rod holders – left, right and back – that allow me to carry 11 rods if necessary. The crate holds a tackle organizer into which I slide a series of Flambeau boxes. I load my emergency stuff underneath and there's a "bucket" in front of the crate where I keep the stuff I'm using that day, like scents, markers and spare hooks. There's also a tool holder back there where I keep my necessary pliers, scissors and so on attached to retractable leashes.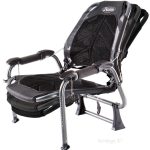 I'm 50 years old, and sitting all day is becoming increasingly tough, so it was critical to get a Hobie high-back seat and then add Kayak Kushions, one under my butt and one behind my back. I'm much more comfortable and experience less fatigue at the end of the day.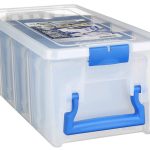 Under my seat I have room for two Flambeau 4510FB boxes to hold all sorts of gear that's not typically immediately necessary. The fit is so perfect that it's almost like the two companies worked together to design them.
The Hobie 360 drive is what really makes this boat so special for so many people. It's a game-changer the way the drive rotates all the way around. You can stay in a spot, or fish an area thoroughly, and you never need to press any buttons or apply any power. It's true stealth mode.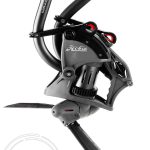 If you know anything about me, you know that I'm an information junkie. I believe that the more info you have, the better equipped you are. That's why I keep two Lowrance depth finders on my kayak mounted on a Hobie H-Rail. One is an HDS9 which I use for 2D imaging, side-imaging or down-imaging and mapping. When I'm using Active Target, I dedicate the Elite 7 to that purposes. Both are attached with Durasafe locks.
If you're like me and you like to film yourself for content generation or to evaluate your performance, you should know that I use two GoPro cameras. One is on an 8" arm in front of me and can be used to film forward or back. The second is on an 18" arm behind me, and it's looking down and forward from there.
There are a few other items I can't leave home without. One is my Ketch measuring board. I don't mount it in place, but it is on a leash tethered to the kayak so I don't lose it. The other is a set of paddles, because even with the pedal drive and the Torqueedo you can't be too careful.
Remember, this is how I rig my personal tournament kayak. Your needs may be different. Still, I hope this gave you some ideas about how to be more efficient and more comfortable on the water.
_____________________________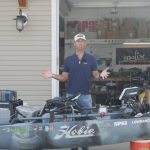 ______________________________
Like Ike on Facebook, and follow him on Instagram and TikTok for fishing and fun content.
Subscribe to Mike's YouTube channel, to ensure you see every adventure video. (Download the YouTube app on your phone and the videos will come to you automatically.)
Return to Mike Iaconelli's website